French Farmhouse Prices in 2010
Wednesday 15 June 2011
The price of French rural properties remained broadly stable in 2010, but with significant variations in the movement of prices across the country.
The average price of rural property was €193,000, slightly up on the average figure for 2009 of €188,000, a year in which prices fell by nearly 11%.
On average, prices also fell in the previous two years, meaning that they are now lower than they were in 2007.
However, as as the graphic below shows, it has not been downhill all the way right across the country.
The figures come from the annual review of the rural property market by the French national land agency SAFER (Société d'aménagement foncier et d'établissement rural).
The agency seems unwilling to comment in any detail on the state of the market in 2010, but expressed surprised at the resurgence in sales and prices in most areas, despite the morose economic backdrop.
Nevertheless, they suggest that most of the activity and price increases occurred in the first half of the year, and dropped back in the second half, which they attribute mainly to an increase in interest rates and a fall in purchasing power.
Activity and price growth was generally strongest in those rural areas nearest to urban conurbations, in large measure due to the fact that younger buyers cannot afford the prices being asked for urban properties.
In more outlying rural areas the market is less active, with fewer international buyers present, and with less interest from French buyers for second homes.
The following graphic shows the average movement in prices by department over the past two years.
Rural Houses Prices 2008-10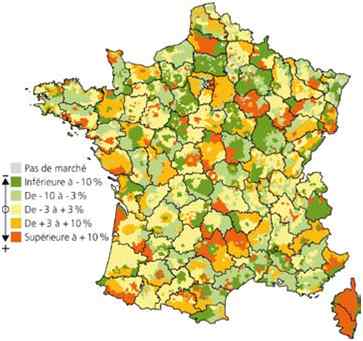 Source : SAFER
This article was featured in our Newsletter dated 15/06/2011