The French Village Birmingham NEC 2012
Tuesday 03 July 2012
We shall be hosting our popular 'French Village' at A Place in the Sun Live exhibition at Birmingham NEC, 28th - 30th September.
A Place in the Sun Live is the largest overseas property exhibition in the UK and our French Village is a major display area at the event.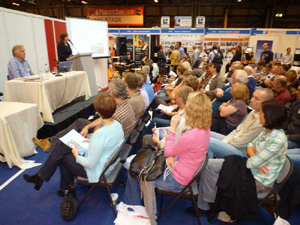 As well as offering a selection of properties from agents and private vendors across France, there will be an opportunity to hear from a range of specialist speakers on buying property and living in France.
Amongst the exhibitors will be Leggett Immobilier, Furley Page Solicitors, Soficas Medical Insurers and International Private Finance.
There is a packed seminar programme for the three days of the show, with rolling presentations from expert speakers, together with 'Ask the Experts' panel sessions.
The seminars will cover some of the key issues of concern to French property buyers:
Legal process of Buying Property
French Taxation and Inheritance
Health Cover
Currency Management
Living in France
Getting a Mortgage
The seminars will be overseen by David Yeates, News Editor of French-Property.com.
They will be free to attend on a first come, first served basis.
French-Property.com will be offering a free 'Guide to Buying Property in France', and visitors will also be able to meet the team to discuss their French property needs and aspirations.
French-Property.com is one of the leading Anglophone sites for property listings in France, with around 12,000 properties and over 100 agents on our site.
In recent years we have also developed an authoritative source of information and advice on buying property and living in France, through our Guides to France and Newsletter.
This article was featured in our Newsletter dated 03/07/2012