Lovely Modern Detached Property in Loire Valley"
Advert Reference: IFPC28793
https://www.french-property.com/sale-property/1-IFPC28793
View from vineyard side
Corner view
Lounge
Bedroom
View from main bedroom
Bathroom
Lounge 1
View looking East
Lounge 2
Bedroom
Bathroom
Some autumn sun
View Carousel
Return to search
Return to search
€149,000
includes modern furnishing
Region: Pays de la Loire
Department: Maine-et-Loire (49)
Commune: Montreuil-Bellay
For Sale By Owner (FSBO)
For Sale Privately

€149,000 is approximately:
British Pounds:
£130,807
US Dollars:
$175,656
Canadian Dollars:
C$224,736
Australian Dollars:
A$231,635
Please note that these conversions are approximate and for guidance only.
They do not constitute sale prices.
View on map
Key Info
Type: Residential (House)
Bedrooms: 2
Habitable Size: 105 m²
Land Size: 2,000 m²
Highlights
Vineyard location
Close to Saumur
Immediate occupation
Built 2005
Currently 2-houses, but easily combined into one
Property Description
This property lies 14km to the south of Saumur in the Loire valley. It lies in a small commune of about 10 houses just 1km from the Grande chateau of Brézé. The village has a bar, boulangerie, hairdresser, Post Office etc. The vineyards make for great walking and cycling. Historic towns like Abbey of Fontevraud and Montreuil-Bellay are just 10km away. The region is classified by UNESCO as a World Heritage site. Saumur is linked to the Autoroute network via A85, it has a railway station with links to TGV network at Angers and Tours. There are airports at Nantes (2-Hrs) and Tours (1-Hr)
The 2000m² lawned ground has Walnut trees and a black fig tree that fruits twice annually in July and late October. It is adjacent to a 16thC petit chateau and is surrounded by vineyards with panoramic views towards the south and east of about 20km. Our own house, where we have lived for the past 12-years, is next door so we will be able to help with your transition into occupancy.
The property was built in 2005 and so is in excellent condition. Currently, it is two individual holiday homes for couples, however a lintel was installed, to allow them to be easily combined into one dwelling, if desired. All windows are double glazed and have metal electric shutters making them a secure "lock-up-and-leave" option. Electric central heating and high insulation walls throughout means that they can be occupied in comfort all-year round. They have all utilities with mains water and sewer, WiFi and UK Sat TV.
The houses are tastefully decorated and furnished making them ideal for immediate occupancy. In the longer term, there is the sufficient ground to construct a swimming pool, garage and utility room.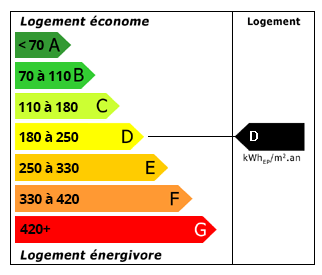 Energy Consumption (DPE)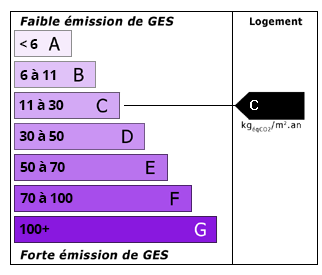 CO2 Emissions (GES)
Return to search
€149,000
includes modern furnishing
€149,000 is approximately:
British Pounds:
£130,807
US Dollars:
$175,656
Canadian Dollars:
C$224,736
Australian Dollars:
A$231,635
Please note that these conversions are approximate and for guidance only.
They do not constitute sale prices.
Location Information
Maine-et-Loire (49), Pays de la Loire
Region: Pays de la Loire
Department: Maine-et-Loire (49)
Commune: Montreuil-Bellay
Location: 12km south of Saumur
View Large Map
For Sale By Owner (FSBO)
For Sale Privately

Partner Services
Property added to Saved Properties
Visit https://www.french-property.com/sale-property/1-IFPC28793 to make an enquiry