You can buy, alter, sell or maintain a property in France with the LBV Group consisting of LBV Immo (helping you buy or sell), French Plans (able to assist with planning issues across the whole of France) and Les Bons Voisins property management providing a business opportunity if you are considering relocating to France and need to earn a living.
With Les Bons Voisins and French Plans, you can research, buy, alter, maintain, let or sell a property in France. Established since 2002, LBV is proud of its reputation as a group you can trust to look after your interests here. Since that time, it has forged relationships with trusted professionals whose proven expertise in all aspects of French property ownership can benefit their clients.
We also provide a business opportunity for those of you wanting to leave the rat-race behind and live in France full time.
You can trust us to assist with whatever aspect of help you require.
With over 50 years of experience in France, our directors are proud of their reputation -
Caring for those who care for France.
---
Contact Us
Contact us at our central office
Telephone
+33 (0)2 96 24 74 27

Email
info@lbvfrance.com
Address
1 Kerhunou
22340 Locarn
Brittany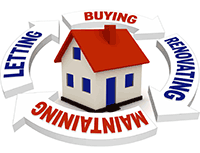 Relax – let us take care of you!
Please use the form below to make an enquiry – someone from the appropriate company will be in touch and do their very best to help you! Please note: Required information *