Renovated Stone Cottage W/Blueberry Orchard Income
Stone cottage
Blueberry orchard fully irrigated
Private outside terrace 37.5 m2
Open spaces and views of the country side
All windows with roll-up screen
Water well in local stone w/new roof
Entry way of the house
Brand New open floor plan kitchen w/central island
Stainless steel hood, large sink, and dual stove top (electric & propane)
Plenty of cabinet/large drawer spaces. Lot of counter top surface with electric outlets
Open living room w/cast iron fireplace insert
Cozy fireplace sitting
Bedroom 1 w/bed size 180 cm wide
Lower Bathroom
Italian shower
Bidet with radiator towel
Main level floor plan
Upstairs floor plan
Hallway with built-in oak desk
Hallway staircase
Bedroom 3 w/bed size of 160 cm wide + additional built-in cabinets
Bedroom 2, good for bed of 160 cm wide
Basement floor plan
Large stone barn
Stone barn solid oak roof frame w/ excellent roof
Covered wood shed for up to 23 m³ of firewood, w/metal roof
View of the black current mini orchard & yard
Green house tunnel of 12 meters long
Lots of planting options within this tunnel
Garden metal shed for tools & accessories
Aerial view of the property parcels, contiguous land
View Carousel
Return to search
Return to search
€292,500
Save
Broker fees included - Open to any crypto-currencies
Region: Aquitaine
Department: Dordogne (24)
Commune: Payzac
Advert Reference: IFPC29465
For Sale By Owner (FSBO)
For Sale Privately

€292,500 is approximately:
British Pounds:
£262,062
US Dollars:
$332,455
Canadian Dollars:
C$436,620
Australian Dollars:
A$476,026
Please note that these conversions are approximate and for guidance only.
They do not constitute sale prices.
To find out more about currency exchange, please visit our Currency Exchange Guide.
Key Info
Type: Residential (Cottage, Farmhouse, House), Business (Farm)
Bedrooms: 3
Bath/ Shower Rooms: 2
Habitable Size: 123 m²
Land Size: 1.95 ha
Features
Central Heating
Double Glazing
Outbuildings
Terrace
Garden
Off Street Parking
Highlights
Brand New open floor plan kitchen
Blackcurrant & Blueberry Orchards' Earning
Detached stone barn + Metal garden tool shed
Large green house tunnel (12.0 m x 4.1 m = 49 m²)
2 x out-buildings (animals/dryer/storage)
Property Description
COSY HOUSE FEATURES:
- 123 m² + additional 20m² of built-in cabinet with oak door (see floor plans image)
- 3 Bedroom
- 2 full bathroom with Italian shower (upper bathroom to be completed)
- 1 Toilet with sink
- 1 Entry hallway with dual window door
- 1 laundry room with laundry machine and storage shelving
- 1 service entry room
- Brand New Open floor plan Kitchen
- - - - Central Island
- - - - Brand new modern cabinet, lower & upper wall mount, all with soft closing
- - - - Solid Burma Teak wood counter-top (4 cm thick)
- - - - 16 Electric outlets for appliances
- - - - Dual cook top (electric & propane bottle) with electric oven
- - - - Stainless steel large sink & modern high faucet with shower head
- - - - Stainless steel electric hood over the dual cook-tops
- - - - Refrigerator, oven, and dishwasher included
- Large Living/Main room with kitchen
- Double glazed windows throughout
- Mosquito screen (roll-up) everywhere
- Fully insulated roof & outside walls
- LED lighting throughout
- Cast Iron fire insert (15 kW) + Fuel furnace (23.5 kW) for 8 radiators w/2,500 liters tank
- Private terrace of 37.5 m²
- Basement/Cellar for wine Enthusiast (200+ bottle racking spaces) and food can storage of 17.5 m²
- Septic system conforms and fully inspected in March 2019

Must visit to appreciate and understand the cozy feeling and practicability of this house.

PROPERTY FEATURES:
The property offers open views and privacy over its 19,525 m² land and it is setup to generate regular annual income from its blueberry orchard, blackcurrant orchard, chestnuts trees, and many other fruit trees, while providing other options to generate additional income opportunities.
The property has its own deep water well (9,5 m deep) to provide water to the entire garden and orchards (via its irrigation system) at no extra cost, one large stone barn with excellent condition oak roof frame that gives around 98,0 m² of covered storage space, plus 3 small storage rooms attached to the barn providing around 14,0 m², two light structure outbuildings providing 75.5 m² that can be used for storage and/or farm animals, one large covered wood shed storing up to 21,7 m³ of firewood, one metal garden shed for tools and irrigation system, and a large 49,0 m² green house tunnel with irrigation (12 meter long by 4.1 meter wide, and 2 meter tall in center).
There are 2 road entrances available with gates, and the property is fenced all the way past the blueberry orchard field with solid concrete fence and posts; and a regular agricultural fence on the field thereafter, with its own 3rd separate entry field from the road. All activities and living on this property are mainly done away from the road, providing privacy and quiet living without neighbors and distraction.
The garden/yard with all its veggie planter boxes and green house tunnel encompass an area around 270 m², plus many fruits trees (cherries, various plums, figs, pear Williams, apples, peach, quince, chestnuts, walnut, persimmon) and many shrubs & plants (redcurrants, blackcurrants, blackberries, raspberries, grapes, gooseberries, elderberries, blueberries, strawberries, rhubarb, thyme, rosemary, sorrel, sage, chamomile, mint, needles, fireweed, artichokes, etc…) through-out the rest of the property, and can be increase easily. Everything provides all the vegetable and fruit supplies for an entire family and even more. There are also many various types of flowers on the property; from the roses around the house, the lavenders, the lupines, the echinacea, iris flowers, fireweed, and many other wild flowers.
Everything planted on this property has been thought for natural food, therapeutic medical benefices, income producing uses, and beautiful sight purposes. Much more can be done!

BLUEBERRY ORCHARD
The Blueberry Orchard is a long term Investment for stable Earnings over 50 years (and more) and it is more profitable than any B&B or Gite options.
Currently it is setup with 471 blueberry plants total, within 18 rows, with 6 varieties (Darrow, Bluecrop, Bluegold, Patriot, Sierra & Bluejay) planted for self crossed pollination, and setup with an electric automatic irrigation water from the property well water (no water charge).
These blueberry plants will grow between 1.6 m to 1.8 m tall, and will produce between 2.0 kg to 9.0 kg of fruit per plant each year as they grow and until they die. These plants are currently 5 years old. The orchard annual earnings will become sizable in 2 or 3 years. (included in extra info)

BLACKCURRANT & REDCURRANT ORCHARD INFO
116 newly planted blackcurrant orchard (plantation over the last 4 years).
More than 25 plants are already producing good fruit harvest in excess of 50 grams/plant, and the other plants will be producing some reasonable fruit harvest within the next year or two. No real maintenance or irrigation is needed for these plants in this area (except extreme drought summer). Average life span is around 15 to 20 years with annual production between 2.0 kg to 4.0 kg of fruit per plant when fully mature. The orchard annual earnings will become sizable in 4 to 5 years. (Included in extra info)

AFFORDABLE PROPERTY ANNUAL EXPENSES
- Annual Property Tax: 613 € in 2018 (include street garbage removal)
- Electrical consumption annual average 454 Kwh/mo. (2017,18, & 19 EDF reports available)
- Public Water consumption average around 23.00 €/month
- Winter Firewood between 14 m³ to 18 m³ without using the furnace; otherwise, less firewood.
- Current Internet connection between 15 Mb to 45 Mb speed

CONVENIENT LOCATION
The property is located a short drive away from St-Yrieix (10 min) and near major cities like Limoges (45 min), Périgueux (45 min), Brive-la-Gaillarde (55 min), Bergerac (1hr15); and Bordeaux (2hr20) for all convenient stores, farmer's markets, shopping, attractions, and activities. (Google map location included in extra info)

FARM EQUIPMENT OPTION (EXTRA)
The necessary farm equipment is available to purchase to maintain this property right away. (Included in extra info)

MANDATORY HOME INSPECTIONS COMPLETED:
- Lead paint inspection OK (none)
- Asbestos inspection OK (none)
- Septic System inspection OK. Perfectly working and does not require emptying, neither for kitchen grease trap.
- DPE Class E and GES class A
- Termites inspection OK (none)

NOT A STANDARD LISTING
This property will pay for itself with the established orchard earnings. ASK FOR A VISIT, we will be please to explain and show you more of all the potential this Property has to offer during your touring.

GENERAL TOURISTIC INFORMATION
The Dordogne Region is the department of 1,000 Medieval Castles, very old underground caves from Neanderthal era, and many lakes and rivers. This region provides countless historic discovering of all sorts, as well as outdoors attractions such as fishing, rafting, kayaking, canoeing, mountains biking, and more within its numerous national parks. It is within short driving distances from lots of great wines producers around Bergerac, and the famous Bordeaux areas, as well as Cognac area. And it is the region of Perigord for all gastronomy enthusiasts (foie gras, truffles, duck confit, etc…)
(more included in the extra info)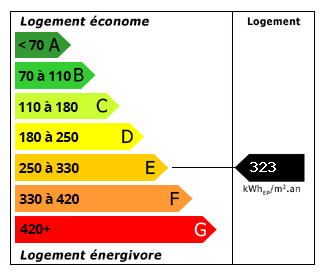 Energy Consumption (DPE)
CO2 Emissions (GES)
The information displayed about this property comprises a property advertisement which has been supplied by a Private Vendor and does not constitute property particulars. View our
full disclaimer
.
Return to search
€292,500
Broker fees included - Open to any crypto-currencies
€292,500 is approximately:
British Pounds:
£262,062
US Dollars:
$332,455
Canadian Dollars:
C$436,620
Australian Dollars:
A$476,026
Please note that these conversions are approximate and for guidance only.
They do not constitute sale prices.
To find out more about currency exchange, please visit our Currency Exchange Guide.
Location Information
Dordogne (24), Aquitaine
Region: Aquitaine
Department: Dordogne (24)
Commune: Payzac
Location: Small hamlet near Payzac
View Large Map
For Sale By Owner (FSBO)
For Sale Privately

Partner Services
Property added to Saved Properties
Visit https://www.french-property.com/sale-property/1-IFPC29465 to make an enquiry