Sterling/Euro Currency Review July 2015
Tuesday 04 August 2015
July was another solid month for Sterling as we watched it confidently capitalise on the strife in Greece, trading at a monthly average of €1.4132, says Ben Scott.

Meanwhile we saw UK growth expectations confidently increase, prompting rumours of a potential interest rate hike in the UK, powering the Pound to new highs.

Amongst a busy month of data and breaking news we saw the Sterling-Euro rate swing between lows of €1.3891 to record breaking highs of €1.4406 mid-market rate.

Sterling data this month could be seen to release the reins, at times moving away from its more controlling form, as Greece stormed headlines in what many are calling the pinnacle of the ongoing saga.

Fortunately this worked very nicely in the Pound's favour as for a second month running we saw fresh highs against the Euro as illustrated by point C on the graph below.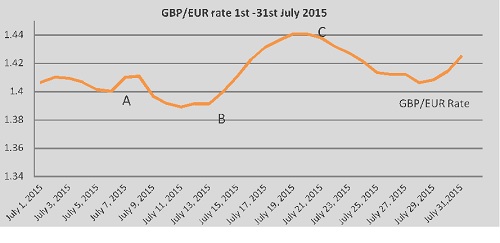 Sterling was able to continue its gains through the end of June as Greece, in their usual fashion, officially defaulted on their lump sum repayment while holding firm against agreeing to the IMF's reform proposals.

In the eleventh-hour talks between Prime Minister Tsipras and the European leaders we saw Greece hold their resolve as they continued to reject the tight conditions put forward by creditors, confidently facing the possibilities of a Greek exit from the Eurozone and a move back to the drachma.

This put the Sterling-Euro rate on turbulent ground as it was generally pushed and pulled between the news of new proposals and rejections until it was confirmed that the decision would be put to the public via a referendum - the 'Greferendum'.

On the morning of the 6 July markets embraced the results of Sunday's referendum. We were again shown the strength of the Greek peoples' resolve with a 38.69% to 61.31% slide in favour of a NO vote. This allowed markets to open over 100 points higher than where it closed on the previous Friday, presenting us with both the possibility of a Greek exit from the Eurozone and another fantastic buying opportunity for Sterling sellers in the market for Euros.

Despite the situation in Greece controlling the majority of notable movements on the rate, Sterling data should certainly not be discredited as behind the stage curtain we experienced flurries of positive data releases out of the UK, pushing the GBP/EUR pair.

Following June's positive GDP posting, we saw a spree of positive industrial, construction and services PMI data beat expectations, accompanied by some encouraging labour market numbers, which further put pressure on the Euro.

Regardless of some slightly disappointing inflation figures, Bank of England Governor, Mark Carney, raised the UK's interest rate hike expectations explaining that,

"consistent growth above trend, and a firming in domestic cost

s" would allow them to implement a gradual adjustment sooner than expected.

As of point B on the graph this instigated some progressive gains against the Euro, putting Sterling over the highs seen last month, and yet another fantastic opportunity for our Euro-buyers to lock into forwards or sell the Pounds into Euros on a spot contract.

At this stage, the tide had turned in Greece, following some back-and-forth negotiations between EU Finance ministers and Prime Minister Tsipras, including the resignation of his finance minister Yannis Vavourakis. This, however, did not impact Sterling gains as was initially expected and the pound continued to climb up to point C shown on the graph.

Following Sterling's triumphant effort to new seven-and-a-half year highs, we began to see the proverbial 'hangover' as data to round up the month was thin on the ground, with the highly regarded retail sales figure coming in worse than expected.

This was a widely anticipated bounce back as UK interest rate hikes came into question and the dust began to settle in Greece.

With Greece's place in the Eurozone confidently confirmed by ECB President Draghi, the main concerns now focused on getting the economy back on track and to start reaping the rewards of their positive quantitative easing program.



On another note, not dissimilar to UK interest rate hikes, EU referendum talks seemed to be creeping into the news. George Osbourne, in his latest EU renewal meeting, has hinted that a referendum may be coming as soon as June next year, but stating that it will be a taxing operation to build momentum behind the campaign.




Ben Scott
Foreign Exchange Ltd
www.fcexchange.co.uk

This article was featured in our Newsletter dated 04/08/2015