The French government have announced that next year up to 8 million households will benefit from a reduction in income tax of between €200 and €500.
With less than two years to go until the presidential elections in May 2017 the government has, for the second year in succession, made a grand gesture to reduce the level of income tax.
Although the details of plan remain sketchy, it is claimed the reduction will affect up to 8 million households, of whom 500,000 will be taken out of the tax net altogether.
By way of illustration, a retired couple with no children with a net monthly income of €2,960 would benefit from a reduction in tax of €483, bringing their tax bill down from €1,911 to €1,428.
A couple with two children, with a net income of €3,300 per month, who under current rates pay €384 in tax would not be liable next year.
Finally, a widow/widower in their 70s, with a monthly income of €1,750 and currently liable for €263 in income tax, would also be income tax free next year.
The reduction will apply on income for 2015, as declared on your income tax return in 2016.

The method by which it will be achieved as yet to be announced, whether by an increase in the discount that is granted to those who only pay a small amount in income tax, or by increasing the income threshold at which a household becomes liable for income tax.
The planned reduction next year is in line with the previously stated ambition of the government to return to the position in 2010 when around 46% of households paid income tax, as the graphic below shows.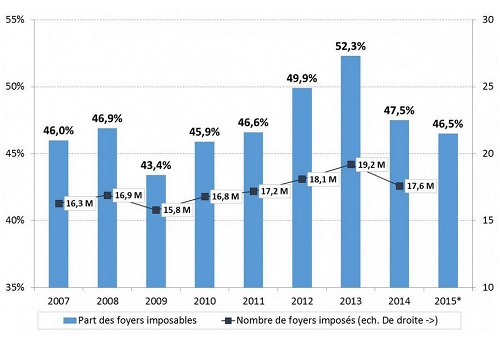 Within the socialist party the announcement has not met with universal approval, with President Holland's former Prime Minister Jean-Marc Ayrault amongst the leading critics, arguing that reducing income tax misses the target. He considers that the priority should be to make the social charges (

prélèvements sociaux

) more progressive, as these charges fall disproportionately on those on lower incomes.