Earthquake Zones in France
New earthquake zones have been defined in France, encompassing nearly two thirds of the country!
Although France is not a country normally associated with the risk of earthquakes, a low to moderate risk exists in many parts of the country.
These low level earthquakes are not uncommon with parts of the Charente, for instance, having a regular succession of such tremors.
The new map of earthquake zones divides the country into 5 levels of risk ranging from 'Very Low' to 'Strong'.
Level 1 – Very low risk
Level 2 - Low risk
Level 3 – Moderate risk
Level 4 – Average risk
Level 5 – Strong risk
No part of mainland France is classified with the highest degree of risk, although parts of the Alps and Pyrenees are classified as level 4, having an 'average' level of risk.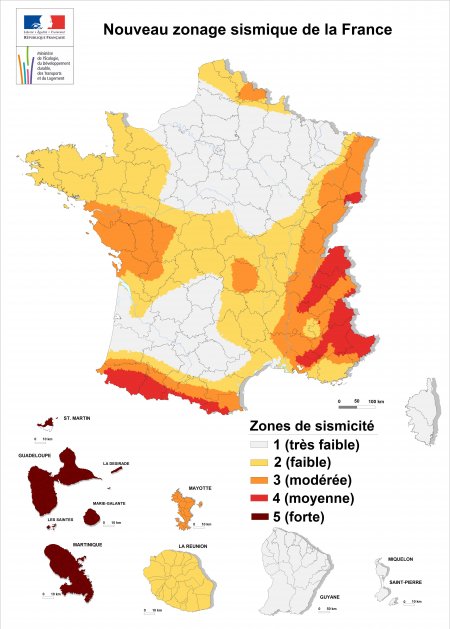 The new map greatly enlarges the areas of risk previously demarcated in a zonage classification dating from 1969, which classified only 14% of the country as 'at risk'.
The new zoning takes account not only of the historic instances of tremors, but also of local geological factors.
Where previously the zoned areas were defined on the basis of cantons (encompassing a number of communes), the new areas are now defined by communes.
You can view the status of all communes at Earthquake Zones in France.
It is noteworthy from this list how variable is the classification of communes within a single department.
The classification of a commune having an earthquake risk does having implications on the building standards to be adopted for new build properties, although in the case of residential buildings these are not normally significant.
It is also likely to have a minor influence on the level of insurance premiums that are payable, although once again, given that most areas are classified as low risk, there may not be any change in the premium payable.
Perhaps of greater political consequence is that a number of nuclear power stations located near the French Alps are now within the new zones.
Most notable of these is in Fessenheim (Haut-Rhin), where protests have been taking place demanding the closure of this nuclear power station, the oldest in France.
Following the nuclear disaster in Fukushima, Japan a major review of the safety of all French nuclear power stations is currently under way.