Energy Rating on all Property Ads
Wednesday 15 December 2010
From 1st January all properties in France for sale or to rent must be advertised with an energy performance rating.
The rule applies equally to properties advertised privately as to those advertised through an estate agent.
The requirement to carry out an energy rating has been in existence since 2007, but only at the point of contract, not when the property is advertised for sale or rent.
Effectively, therefore, the energy rating will be included in the property sale or letting particulars, as shown on the following examples. The C0² emissions rating is merely discretionary.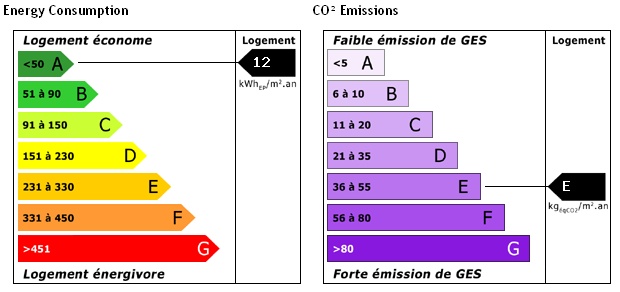 The aim of the new rule is to encourage sellers to do more to improve the energy performance of their properties and to add value to those properties with a high level of energy performance.
Nevertheless, there is concern in amongst estate agents that all it will do is reduce the number of properties coming onto the market.
'We only need to see what happened with the introduction of HIPs in the UK, to see that if owners have to splash out cash before they have sold their property they may be more reluctant to put it on the market', says Michael Dawson, an English agent based in Montpellier.
The energy rating survey is only one of several diagnostics surveys that owners need to undertake as part of any sale.
Depending on the age, location and type of property the others include asbestos, lead, natural risks, electrical wiring, size and gas. It will also soon include septic tanks.
The cost of these surveys is anything from between a few hundred and a few thousand euros for the largest properties, although not all the surveys are required in all cases.
All for One or One for All?
Clearly, the main question for owners to consider will be whether to bring forward the point at which all the surveys are done.
By doing so they may well be able to make a small saving on having the surveys done in two stages.
However, although the duration of validity of the energy survey is ten years, it is a lot less for a number of the others, notably the termites survey and risks report, both of which are valid for only six months.
So by undertaking all of the diagnostics in one hit there is the risk that one or more may need to be carried out again at the time of sale.
The new rule is no idle gesture by the government, for the penalties for breach of this rule are severe - the possibility for the sale to be annulled, as well as heavy damages, and even a prison sentence in the worst cases.
We do not as yet know the application of this rule to existing adverts, as we await publication of the detailed regulations, but we consider that there is bound to be some relaxation of the rule, if not complete exemption.