Sales Grow at Gites de France in 2016
The Gîtes de France recently released their latest sales figures, providing a useful insight into the activity of this substantial and influential body.

Although it may itself sometimes like to think otherwise, the Gîtes de France is merely a private members club of property owners; it has no public or regulatory status.

The power it achieves in France, with enviable political muscle, stems from its economic contribution.

Their recently published financial review shows that last year sales grew by 7%, to reach €468 million.
Those sales were driven by both an increase in the number of nights sold and in prices.
Prices for the accommodation are fixed by the property owners themselves. According to the Gîtes de France there are 47,000 affiliated property owners, the vast majority of whom (84%) offer gîte accommodation
Bookings can either be made through the central reservations centre, or directly with the owners, and the report shows that sales last year were shared equally between the centre and those made directly with the owners.

The number of nights booked was 6.67 million, at an average price of €462 for a weeks gîte rental, and an average of €90 a night for a chambre d'hôte overnight stay with breakfast for two people.
Sales per client averaged €536 for a gîte (-1.4%), with an average stay of 8.3 days, and €173 for a chambre d'hôte (+2.5%), where stays averaged 1.9 days.
The overall annual occupancy level remained stable at 41.5%, although no geographic breakdown is given.
Some limited departmental analysis is provided, showing that the most popular department for sales was Finistère in Brittany, with sales of €10 million, up 4.8%, whilst neighbouring Côtes-d'Armor took third place with sales of €7.4 million, up 12.4%.
In second place was Corsica, whilst Haut-Savoie with sales of €6.2 million (+1.75%) came in fourth, followed by Calavdos in Normandy with sales of €5.8 million (+3.5%).
For the remainder, Gîtes de France offer only a graphic showing overal trends within each region, which is shown in the graphic below.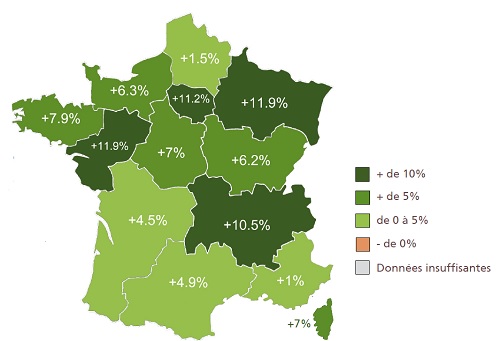 In terms of nationalities, the visitors were overwhelmingly French, accounting for 87% of all bookings. However, bookings from foreign visitors remained stable, with the British the dominant player, accounting for 24% of all such bookings. They were followed by Belgians (16%), Dutch (15%) and Germans (11%).
For the latest in-depth analysis, subscribe to our news service at France Insider.
France Insider is a subscription-based offer which has replaced our previous free Newsletter.