Expat Business Owners Hit by Scam Letters
Thursday 01 December 2011
Small business owners in France are regularly targeted by fraudsters posing as statutory agencies.
The most common of the scams is a letter purporting to come from the social security fund the RSI (Régime Social des Indépendants).
The fraudsters use the homonym 'RSI' in the letter, which resembles almost exactly the form of the demands for payment of cotisations payable by business owners.
In fact a close perusal of the letter shows that it comes from a company based in Paris called the Répertoire des Sociétés et des Indépendants, who offer a listing service for businesses on their website.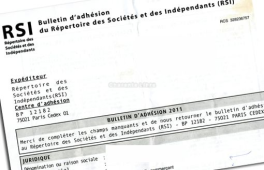 Indeed, if you go on their website, many companies are listed, although some appear be defunct, and few are likely to be listed with the express agreement of their owners.
The cost of a listing on this site is also wholly disproportionate to any inconsequential benefit received, with some owners having received demands for over €1000.
Those particularly targeted are unsuspecting new business owners, who may not be familiar with the whole collection process, and who may indeed by even expecting a demand for the payment of cotisations to be received.
Michael Selby from the Charente was nearly one such victim, having recently established himself as an auto-entrepreneur in a web based business activity.
'Within several weeks of setting up the business, I received a demand for €652 from the RSI, which struck me as odd, for I had understood I paid my social security contributions to 'Urssaf', another social security body,' he says.
Joanne Atkinson was less lucky, having set up her business on a different tax basis, which meant she was due to pay her cotisations to the RSI.
'I sent a cheque off for €235, but later the next day, quite by chance I heard about this scam, so re-checked the letter and found that it was not from the official body.
I tried to cancel the cheque with the bank, but they were unwilling to do so, as a result of which I have had to report the matter to the police, who are now investigating it,' she says.
The problem for those caught by this scam is that it is not entirely clear how much the police or other statutory authorities can do about it, for it is a bone fide company offering an advertising service to companies, albeit for an extortionate price, and with no express terms of contract.
One way to spot the false RSI demand is the absence of your social security number on the letter. Although anyone can obtain access to the official register of businesses, and thereby all company business registration numbers, they will not have access to your social security number, which is given on all demands for cotisations from the official body.
Other Scams
Similar scams have been identified from 'Euro Reg', who purport to be an official EU organisation charging for the creation of a VAT number 'intra-communautaire', someting the tax office will do for you free of charge.
Another is 'Inforegistre' purporting to be the commercial court in France called 'Infogreffe', responsible for business registration.
There are numerous other examples - RSI France, France Annuaire On-Line d'Entreprises, Registre APE, Registre des Créations.
Non-business owners also need to be careful of e mails that regularly circulate from an organisation posing as the 'Service Clients' branch of the telecoms provider Orange.
Contrary to what may be requested in these mails, in fact Orange would never ask you to indicate your password or information relating to your bank card, and neither do they communicate in English, as have a number of fraud e mails.
You should not click on any of the links shown in these mails.
For the latest in-depth analysis, subscribe to our news service at France Insider.
France Insider is a subscription-based offer which has replaced our previous free Newsletter.