French Agriculture Faces up to Reform
The French government has announced a major redistribution of agricultural subsidies towards smaller farmers, and a more "durable" agriculture.
In broad measure, the proposals transfer around 18% of the financial support currently received from Brussels under the Common Agricultural Policy away from the giant cereal producers in the North and East of France, towards livestock farmers in the West, Central and Southern half of the country.
France is the largest single recipient of financial assistance from the EU, receiving around €8 billion a year in direct aid, of the circa €50 million the EU spends on agricultural support. It also receives around €3 million in 'indirect' aid.
In announcing the reforms, Michel Barnier, the French Agricultural Minister, made it clear that, with the Common Agricultural Policy up for review in 2013, France needed to provide greater economic, ecological and territorial justification for the subsidies it received.
Whilst over the past decade, most other countries in the EU have gradually reshaped their own agriculture, France under President Chirac was unwilling to break the stranglehold of the big cereal producers on the EU funds, and the country has only more recently embraced the need for greater sustainability in agricultural practices.
Some of the major cereal farms around the Paris Basin have been receiving payments of €500,000 plus each year, whilst many livestock producers elsewhere have had to settle for a few thousand euros.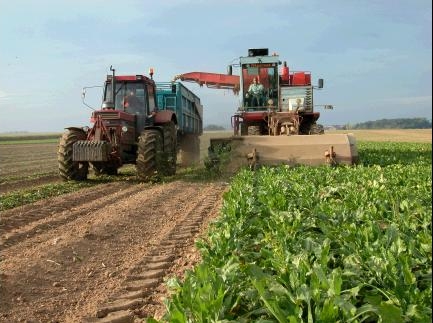 There are regular protests of one sort and another by milk and livestock producers in France, whose incomes are amongst the lowest in the country. The injustice between their own position and those of the large cereal producers has been an open and a sore wound within the agricultural community.
Accordingly, under the Barnier plan, around 70% of the €1.4 billion of redistributed funds will go to cattle, sheep and goat farmers.
There is also increased support for organic farming, which currently accounts for only 2% of agricultural land in France. Additional support will also be given to measures of energy conservation, water management and an improvement in the level of biodiversity. A special fund is also being created to deal with climatic and sanitary risks.
There are already voices within France who say the Minister has not gone far enough, notably in relation to the funds for organic farming. The priority seems to have been the redistribution of funds, not a more environmentally sustainable agriculture.
However, there is potentially some political risk to the Minister in going as far as he has done. He is stepping down as Agricultural Minister next year in order to run in the European elections in the Ile de France. The powerful lobby of cereal producers in the region has already started a campaign to try and ensure he does not get elected.