Best Village in France 2017
The village of Kaysersberg in Haut-Rhin been chosen by the French as their favourite village this year.
After two successive years when villages in Brittany have won the television based competition Village préféré des Français the award this year passes from west to north, to the village of Kaysersberg, near to Colmar, in the department of Haut-Rhin.
Sharing the podium this year were the villages of Saint-Valery-sur-Somme (Somme), which arrived in second position, and the village of La Roque-Gagéac (Dordogne) in third place.
This is the second occasion when a village in the Haut-Rhin has won the competition, as it was the beauty and charm of the village of Eguisham which succeeded in 2013.
For the past couple of years the trophy has been kept in Brittany, with two villages in the region winning the honours - Rochefort-en-Terre, located in the Morbihan won it last year, and the coastal village of Ploumanac'h in the department of Côtes d'Armor in 2015.
Previous other winners of the competition have been the village of Cordes-sur-Ciel in the Tarn department of the Midi-Pyrénées, and the village of Saint-Cirq-Lapopie, also in the Midi-Pyrénées.
The annual competition organised by the French television channel France 2, is now in its sixth year and has become hugely popular with the French, with around 4 million viewers who watch each of the programmes broadcast over several weeks, and hundreds of thousands who then cast their vote.
Villages are selected for the competition by France 2 on the basis of their charm, authenticity and beauty, as well as the level of conviviality and respect for culinary traditions.
The village of Kaysersberg (population 3000 residents) is a popular tourist destination and, based on the evidence from previous winners, tens of thousands of additional tourists can be anticipated in the coming years.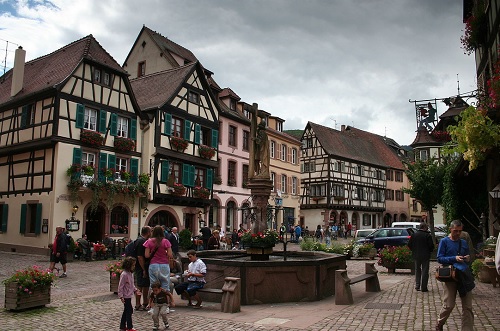 The list of the villages in the competition this year was as follows:
Bellême / Normany
Bèze / Bourgogne-Franche-Comté
Gargilesse-Dampierre / Centre-Val de Loire
Kaysersberg / Grand Est
La Garde-Adhémar / Auvergne-Rhône-Alpes
Lagrasse / Occitanie
La Roque-Gageac / Nouvelle-Aquitaine
Lourmarin / Provence-Alpes-Côte d'Azur
Moncontour / Bretagne
Montchauvet / Ile-de-France
Piriac-sur-Mer / Pays de la Loire
Saint-Valery-sur-Somme / Hauts-de-France
Sant'Antonino / Corsica
This competition sits alongside a number of other official and non-official labels that seek to promote French heritage, such as Les Plus Beaux Villages de France, Station Verte, Petite Cité de Caractère, Pays d'art et d'histoire and Concours des Villes et Villages Fleuris.