Best Christmas Markets in France 2010
Wednesday 01 December 2010
The ambiance of Christmas in France can probably be best experienced by a visit to a marché de noel.
There can be hardly any village or town in France that does not organise a marché de noel each year.
In rural areas the event may be little more than the traditional market with added piped music, a crib and fairy lights, but if the festive makeover is also accompanied by vin chaud andhot chestnuts then it can be a relaxing way to get into the swing of Christmas.
Clearly, those seeking a substantive shopping, gastronomic, and visual experience will need to visit one of the larger towns or cities.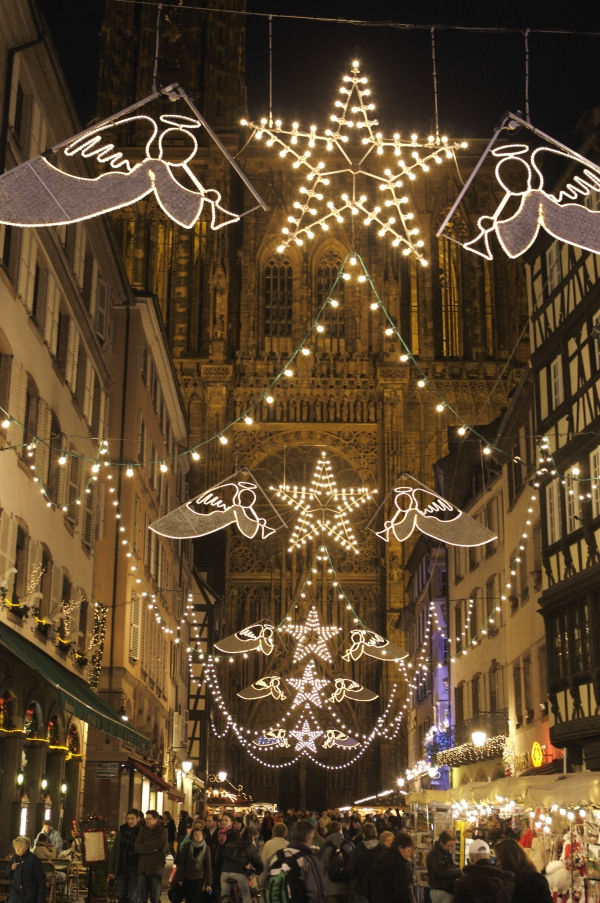 Marché de Noël Cathédrale
© Ville et Communauté urbaine de Strasbourg
Many head for Alsace where the more secular Germanic tradition of Christmas is strongest, and where the biggest markets are held.
Nevertheless, in other regions of France there are festivities that are often more original and interesting.
No doubt there are other markets we could have included in this selection, but we have stuck to what we know. So if you do happen to go to one that you think will interest other readers, then do let us know and we will consider adding it to the list next year.
Amiens
It claims to be the largest Christmas market in the North of France, with around 125 stalls offering a range of gift ideas, local produce and craft demonstrations. This year's theme is said to be '"Le Tour du monde en 80 jours : la mongolie"!
Further details here.
Avignon
Around 60 stalls located around la place de l'Horloge together with singers, dancers and parades. A great carnival and provencale atmosphere.
Further details here.
Colmar
A market (in fact several markets) that many say is more charming than their rival at Strasbourg, set amist a wonderful historic quarter, and with fewer crowds. Best enjoyed during the evening when you can marvel at the illuminations.
Further details here.
Lille
One of the first markets to have opened its doors this year on 24th November. Around 80 stalls with a range of specialities and festive produce, as well as craft stalls from Eastern Europe and North America. English food tasting on 7th December!
Further details here.
Paris
There are a number of different Christmas markets in the capital. The largest is that held at La Défense. Probably also best visited at night to enjoy the experience of the illuminated buildings and decorations.
Other interesting visits in Paris are the Christmas village at the Place Saint-Germain des Prés, and the market on the Champs-Elysées, but go anywhere in the capital and you will almost certainly fall upon a Christmas market. One of the nicest smaller markets is at Abbesses, which also happens to be a wonderful part of Paris.
Further details here.
Reims
What better place to enjoy a carbonated quaff at Christmas than in the Champagne capital itself. Around 120 stalls offering a range of festive, artisanal and local food produce.
Further details here.
Ribeauvillé
Another interesting market that takes place in the wine growing area of Alsace. A medieval theme, with a range of traditional artisanal demonstrations, as well as magicians and singers.
Further details here.
Strasbourg
A tradition since the 16th century and undoubtedly the largest Christmas market in France with hundreds of stalls and great illuminations. Some consider it has simply become too large and commercial, but undoubtedly worth at least one visit. Magical experience around the Cathedral. Best enjoyed in the evening.
Further details here.
Tiffauges, Vendée
Something a little different from the usual Yuletide offer with a fair taking place at the beautiful Château de Tiffauges. Only on for several days during December. Once again, best enjoyed at night.
Further details here.
Toulouse
La place du Capitole is a beautiful area at any time of year, but particularly so during the Christmas market, when the around 150 stalls and decorations add a new and charming dimension to it. Many other festive activities also take place away from the Capitole.
Further details here.