Covid-19 France - Departmental Figures
An analysis of the current number of Covid-19 cases in France by department.

On a national level, as of 4th May, the number of officially confirmed infected persons was 131,863.

There are currently 25,548 hospitalised, down from the peak of over 32,000 on 14th April.
Similarly, there are 3,696 in intensive care, down from a peak of over 7,000 on 8th April.
There have been a total of 25,201 Covid-19 related deaths (of which 15,286 hospital deaths and 9,375 in care homes). Over the past week, hospital deaths have averaged 189 per day and 83 in care homes. Over 90% of the deaths have been those aged 65+ years.

Some 51,537 hospital patients have recovered and have been discharged.
The graphic below shows the trend for the period 3rd March to 4th May, with cumulative totals.
Orange - Confirmed cases
Grey - Hospitalisation
Dark Grey - Intensive Care

Red - Deaths
Green - Return to Home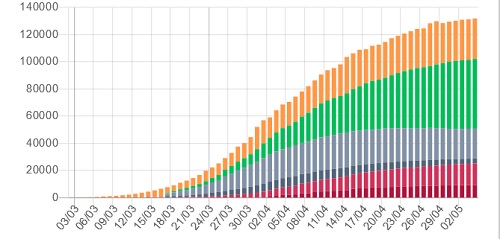 The following table shows the current number of hospitalisations and cumulative deaths by region and department, as at 4th May.
The vast majority of current hospitalisations are located in the regions of Ile-de-France (10,567) and the Grand Est (3,773) and to a less extent in Auvergne-Rhône-Alpes (2,439) and Provence Cote d'Azur (1,473). The lowest number of hospitalisations continues to be in Brittany (365).
At a departmental level, worst affected for mortalities is Paris, where 1,517 people have died. No department has been spared, but nine are still in single figures - Cantal (7), Creuse (5), Dordogne (9), Lot-et-Garonne (8), Ariège (2), Lozère (1) Tarn-et-Garonne (4), Alpes-de-Haute-Provence (8), and Hautes-Alpes (8).
Covid-19 - Region/Department


Region/Dept



Current
Hospitalisations

Cumulative
Deaths


AUVERGNE-RHONE-ALPES



Ain
157

81

Allier
46

27

Ardèche
140

72

Cantal
25

7

Drôme
102

120

Isère
167

110

Haute-Loire
31

11

Loire
386

195


Puy-de-Dôme

43

36

Rhône
1073

536


Haut

e-Savoie
203

143


Savoie

66

48


BRITTANY




Côte d'Amour

52

26


Finistère

57

38

IIe-et-Vilaine
136

75


Morbihan



120

83

BOURGOGNE FRANCHE-COMTE

Belfort

131

153


Côte-d'Or

273

220

Doubs

156

121

Haute-

Saône

98

73

Jura

97

48


Nièvre

49

23


Saône-et-Loire

222

166


Yonne



115

65

CENTRE-VAL DE LOIRE

Cher

90

60

Eure-et-Loir

219

96

Indre

126

68

Indre-et-Loire

162

63


Loir-et-Cher



138

49

Loiret

246

75

GRAND EST

Ardennes

45

41

Aube

221

113

Haute-Marne

78

59

Marne

328

220

Meurthe-et-Moselle

361

290

Meuse

135

83

Moselle

723

683

Bas-Rhin

829

547

Haut-Rhin

843

701

Vosges

210

241

HAUTS DE FRANCE

Aisne
277

220

Nord
878

448

Oise
414

339

Pas-de-Calais
412

238

Somme
252

183


ILE-DE-FRANCE

Paris
2,155

1,517

Seine-Saint-Denis
1,432

855

Haute-de-Seine
1,716

896

Val-et-Marne
1,784

959

Val d'Oise
885

593

Yvelines
793

437

Essonne
1,162

428

Seine-et-Marne
640

523


NOUVELLE-AQUITAINE

Charente
4

12

Charente-Maritime
59

43

Corrèze
76

28

Creuse
19

5

Deux-Sèvres
15

19

Dordogne
25

9

Gironde
212

122

Landes
18

10

Lot-et-Garonne
29

8


Pyrénées-Atlantiques

46

25

Haute-Vienne
37

22

Vienne

43

33


OCCITANIE

Ariège
7

2

Aude
35

52

Aveyron
26

22

Gard
106

70

Gers
27

19

Haute-Garonne
123

53

Hautes-Pyrénées
66

22

Hérault
103

107


Lot

15

19

Lozère
2

1


Pyrénées-Orientales

15

33

Tarn
37

20
Tarn-et-Garonne
10

4


NORMANDY

Calvados

146

63

Manche

59

41

Orne

75

29

Eure

109

70

Seine-Maritime

188

156


PAYS DE LA LOIRE

Loire-Atlantique

213

128

Maine-et-Loire

157

102

Mayenne

80

34

Sarthe

126
61

Vendée

47

32

PROVENCE-ALPES-COTE D'AZUR

Alpes-de-Haute-Provence

23

8

Alpes-Maritimes
202

146

Bouches-du-Rhône

905

427

Hautes-Alpes

37

8


Var

234

115

Vaucluse

72

28

Source: Santé publique France
French-Property.com Survey
Help us improve French-Property.com