Covid-19 - Where are the Cases?
What are the departments in France most affected by the pandemic?
On a national level, as of 2nd April, the number of confirmed infected persons was 59,105, with 26,246 hospitalised, 6,399 in intensive care, a total of 4,503 hospital deaths, and 12,428 recovered and discharged.
The vast majority of hospitalisations are located in the Ile-de-France (10,273) and the Grand Est (4,657) regions and to a less extent in Auvergne Rhone Alpes (2,706) and Provence Cote d'Azur (1,492). The lowest number of hospitalisations is in Brittany (391).

POSTSCRIPT: See our May 2020 update of the situation in our article at: Covid-19 Cases by Department.
The graphic below shows the trend since 3rd March, with cumulative totals.
Orange - Confirmed cases
Grey - Hospitalisation
Dark Grey - Intensive Care

Red - Deaths
Green - Return to Home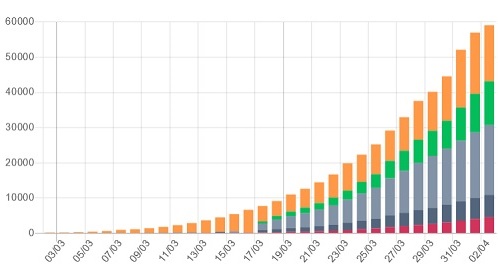 The true number of people infected or who have died is higher than the official figures above, due the restricted nature of the testing that has been carried out and deaths at home that are not included.
Thus, preliminary figures from the government indicate that there are nearly 15,000 elderly in care homes who are infected and nearly 900 who have died as a result of Covid-19.

The following table shows the number of hospitalisations and deaths by region and department, as at 2nd April 2020.
At a departmental level, worst affected is Paris, with 2,828 hospitalisations and 455 deaths, whilst thus far Lozère has been largely spared, with only nine people admitted to hospital and no deaths.

Covid-19 - Departments


Region/Dept



Hospitalisations

Deaths


AUVERGNE-RHONE-ALPES



Ain
105

14

Allier
36

6

Ardèche
83

23

Cantal
21

0

Drôme
229

44

Isère
199

16

Haute-Loire
17

3

Loire
435

62


Puy-de-Dôme

74

3

Rhône
1138

173


Haut

e-Savoie
77

28


Savoie

115

14


BRITTANY




Côte d'Amour

59

9


Finistère

66

7

IIe-et-Vilaine
128

12


Morbihan



138

35

BOURGOGNE FRANCHE-COMTE

Belfort

216

75


Côte-d'Or

59

9

Doubs

186

35

Haute-

Saône

77

28

Jura

55

4


Nièvre

15

4


Saône-et-Loire

169

53


Yonne



97

9

CENTRE-VAL DE LOIRE

Cher

38

14

Eure-et-Loir

146

18

Indre

49

17

Indre-et-Loire

138

12


Loir-et-Cher



73

7

Loiret

196

16

GRAND EST

Ardennes

66

1

Aube

104

20

Haute-Marne

66

8

Marne

365

58

Meurthe-et-Moselle

465

85

Meuse

153

23

Moselle

1,030

242

Bas-Rhin

1,037

224

Haut-Rhin

1,105

418

Vosges

266

99

HAUTS DE FRANCE

Aisne
186

14

Nord
703

101

Oise
354

126

Pas-de-Calais
290

27

Somme
292

49


ILE-DE-FRANCE

Paris
2,838

455

Seine-Saint-Denis
1,208

208

Haute-de-Seine
1,748

211

Val-et-Marne
1,474

211

Val d'Oise
791

174

Yvelines
837

137

Essonne
758

80

Seine-et-Marne
619

95


NOUVELLE-AQUITAINE

Charente
19

3

Charente-Maritime
66

11

Corrèze
38

4

Creuse
11

9

Deux-Sèvres
29

5

Dordogne
15

1

Gironde
298

33

Landes
17

1

Lot-et-Garonne
30

3


Pyrénées-Atlantiques

74

12

Haute-Vienne
64

6

Vienne

44

15


OCCITANIE

Ariège
17

1

Aude
104

20

Aveyron
52

7

Gard
74

11

Gers
27

3

Haute-Garonne
214

13

Hautes-Pyrénées
41

3

Hérault
245

39


Lot

13

0

Lozère
9

0


Pyrénées-Orientales

112

16

Tarn
59

3

Tarn-et-Garonne
12

2


NORMANDY

Calvados

126

65

Manche

57

11

Orne

58

7

Eure

54

10

Seine-Maritime

335

44


PAYS DE LA LOIRE

Loire-Atlantique

204

38

Maine-et-Loire

144

23

Mayenne

60

8

Sarthe

106

16


Vendée

57

7

PROVENCE-ALPES-COTE D'AZUR

Alpes-de-Haute-Provence

25

3

Alpes-Maritimes
182

32

Bouches-du-Rhône

946

65

Hautes-Alpes

59

1


Var

198

28

Vaucluse

82

12

Source: Santé publique France