Covid-19 France - Relaxation of Lockdown
The French government have announced a cautious and conditional plan for easing the lockdown, commencing 11th May.
"Protect, test and isolate" were the three priorities in a plan for a gradual ending of the lockdown outlined by Prime Minister Edouard Philippe to the French Parliament on 29th April.
Until there is a vaccine, "We need to learn to live with the virus," he said.
To realise these three objectives, the easing of restrictions would be implemented on a progressive basis and by department.

Only those departments given a 'green' classification would be allowed some relaxation, whilst in 'red' departments the current restrictions would remain in place. A decision on the classification of each department would be made on 7th May.

Departments where restrictions will remain in place would be those where:
the circulation of the virus remains active;
hospital capacity in resuscitation remains tight;
the local system for testing and detecting contact cases is not adequate.
A map giving an indication of how it might play out for each department is being released daily. In the initial maps, a large number of departments are coloured amber, where the indicators are mixed and which may later be classified as either red or green.

POSTCRIPT: On 7th May the government released the final classification, shown on the updated map below. Although there remain red zones, the lockdown would be eased throughout France, but in the red zone lower secondary schools and parks and gardens would remain closed. In addition, public health control measures would be tighter in the zone.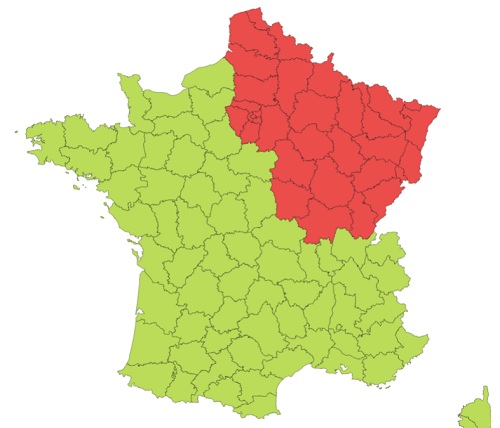 Any relaxation at all is also conditional on the number of new cases each day being below 3,000. The current number of new cases is below 2,000 per day, although it will increase as more tests are carried out.
After a first phase of de-confinement on 11th May, a new phase would open on 2nd June for three weeks, with new measures that will depend on the level of the epidemic. The state of health emergency will remain in place until at least 10th July.

Masks
As protecting those not infected is central to the plan, the government have stated that it will be necessary to maintain physical distancing measures and barrier protection.
Wearing a mask will not be made mandatory, except in specific circumstances, such as in schools and on public transport. In shops, the use of a mask by the public is merely being recommended.
In order to meet the requirement for masks, the Prime Minister stated they were receiving around 100 million surgical masks a week for health professionals, and from 11th May and around 20 million washable masks that would be made available to the general public.
Supply of the masks is to be achieved by importation and a substantial increase in local production by both public and private sector producers. Local authorities have been authorised to purchase masks, and the government has stated they will fund 50% of their costs, up to a maximum cost threshold. Many commentators are sceptical the government will achieve its supply objectives and there is anger amongst health professionals that their own needs are being compromised.
Masks for the general public are now being made available through local councils, shops, and tabacs. An on-line platform for La Poste would also be created. Pharmacists have also now been authorised to sell masks.

The government have stepped back from imposing price controls on the sale of masks to the public (most are for sale at around €1 each, but there are reports of much higher prices being charged), although a cap has been imposed on the sale price of single-use surgical masks, of €0.95 per mask.
Tests
On testing, the government have set a target of 700,000 tests per week, with priority to those showing symptoms and those who have been in contact with infected persons.
As with the supply of masks, doubts are widespread as to whether the target of 700,000 a week can be achieved; to date, although reliable figures are difficult to obtain, in total, less than a million tests have been carried out, the vast majority in hospitals.

The tests are fully paid for by the health system.
Anti-body tests will not yet be introduced, awaiting the development of a suitable test. When they are introduced it is not proposed to introduce 'certificates of immunity'.
Isolation
Those who are found to be infected with the virus would have the choice of self-confinement at home (which will require that the whole household is isolated), or in hotels requisitioned for this purpose. The duration of the isolation is 14 days. "It's not a punishment, it's putting them in a safe place," the Prime Minister stated.
A track and trace initiative is also in development ('StopCovid'), but no decision has yet been made on the introduction of the app, which would follow from a parliamentary debate on the issue.
Measures of Relaxation
The specific measures are outlined below. They are to be discussed with local councils and prefets, who are to be granted a large degree of discretion in the implementation of the plan, albeit mainly to stricter enforcement, rather than greater relaxation. Some clarification and modification of the proposals may therefore be expected prior to the final announcement on 7th May.
Travel and Transport
Everyone will be permitted to travel outside of their home, including beyond their own department, without the need for an sworn declaration (attestation), except for travel more than 100 km from home, which will only be possible for either a compelling family or professional reason ("un motif impérieux, familial ou professionnel".)
The government have not provided any definition of what reasons might be justified, but on a chat platform a police spokesman defined it narrowly: "If it's a professional reason, you must be able to justify a contract, an internship agreement, being a student, or a certificate from your employer...As regards the 'compelling family reason', it is a question of authorising travel whose necessity cannot be called into question, such as injury of a relative, accompanying a vulnerable or dependent person, death, house in danger...."
Those planning to travel more than 100km will need to do so with an attestation.
Intra-regional public transport (rail, tube and buses) will return to at least 70% normal capacity from 11th May and wearing a mask will be mandatory on all public transport for at least three weeks after this date. Those not wearing a mask will be refused access and police will be able to impose a fine of €135 on those who breach the rule. Within the Ile-de-France, more stringent controls will apply during peak-time hours.

Only every other seat will be used and the organisation of ground markings allowing the management of flows, especially in the Paris metro, will be a prerequisite for restart.
The government are encouraging use of bicycles over cars and public transport for the return to work, for which purpose they have put in a place assistance of €50 towards the repair of a bike you own if you are willing to use it for work.
Inter-regional travel services will be kept to a minimum and can only be used for compelling work or family reasons. Mandatory booking will be required.
A decision on foreign travel would be announced on 2nd June, although the state of health emergency is being extended to 24th July. The government subsequently announced that borders will remain closed until at least 15th June. For the time being only those with compelling reasons to enter France can do so. As part of the state of emergency, quarantine measures are being imposed on those who enter from outside of the EU and UK, although there will be no obligatory quarantine on those entering France from within the EU or the UK, irrespective of nationality.
Schools
Nursery and primary schools would return from 11th May in those departments where the epidemic is low and only on a voluntary basis.
Lower secondary schools would follow on gradually from 18th May, starting with 11-12 year-old children. Classes will be kept to a maximum of 15 pupils in and 10 children per creche.
Priority will be given to working couples who cannot telework and single-parent families. Children of caregivers and teachers should also be given priority.
Lycees would remain closed at least until early June.
A detailed article on the plan is contained in our article Return to School in France.
Work and Business

Employees and the self-employed are asked to continue to work from home wherever possible.
If this is not possible, the government is calling for staggered schedules. Companies will also have to equip their employees with masks and implement barrier measures.
Numerous guides are being published giving guidance to employers about the measures they should adopt to safeguard their employees. The guides can be found at Ministère du Travail.
The job retention scheme, which allows employees to receive 84% of their net earnings, will be extended until 1st June and then gradually reduced. According to the Prime Minister: "Nous adapterons ensuite progressivement, selon l'évolution de l'épidémie." You can read about this scheme in our article Job Retention Scheme.
Hardship grants to small businesses will continue until the end of May, as will permitted delays in the payments of income tax and social security contributions. You can read about the assistance available in our article Hardship Grants for Small Businesses.
For small businesses obliged by administrative order to close, the government has recently announced that it is considering waiving employer related charges (charges patronales) altogether, subsequently confirmed on 7th May, when they announced that charges for March to May would be cancelled.
Commercial Activity

All shops will be permitted to reopen on May 11th, although shopping centres greater than 40,000m2 will be subject to a decision of the local prefet.
Hairdressers and beauty salons could also open. As a result of the announcement, many hairdressers are already booked up for weeks ahead.
Cafes, bars and restaurants will remain closed. A decision will be made at the end of May to decide whether they can open after June 2nd.
A shop-owner will have the right to impose the wearing of the mask in their shop. Staff are recommended to wear masks.
Local markets can also start-up, provided social distancing measures are guaranteed.
Property Transactions
The property market has remained largely frozen during the lockdown, as visits cannot take place, estate agent and notaire offices have been closed and building surveyors have been unable to undertaken the usual statutory surveys. In addition, moving home has only been possible where it cannot be postponed.
The rules will change on 11th May, when professionals will resume their activities, but only provided they are in one of the green zones, and subject to protection measures being put in place. It will no longer be necessary to sign a sworn declaration to move home, provided it is within 100 km of your existing home. Beyond 100km it will be necessary to provide an affidavit that the move cannot be postponed, which will require proof being provided. Similarly, visits can only take place within a 100km radius of your existing home.
Elderly Persons
Without stating an specific age, the Prime Minister asked for "patience" for the elderly and frail, who would need to continue to implement the measures as they were during the confinement. However, the government is not proposing to make confinement mandatory for such persons.

Public Places
Gatherings held on public roads or in private places will be limited to 10 people.
Media libraries and small museums will be able to reopen.
Cinemas, theatres, major museums and concert halls will remain closed. There will be no event with more than 5,000 people until September so all the major summer festivals in France have been cancelled.
Local village halls must remain closed.
Individual outdoor sport will be possible for any duration and the 1km limit from home would no longer apply.
Parks and gardens will only be able to open in departments where the virus is not actively circulating.
Beaches will remain closed to the public until at least June 1st, although the government subsequently announced that local mayors could make a request to their prefet for a beach to be opened, to which consent might be granted, provided public health measures were adopted.

Places of worship will remain open but no ceremony can be held until 29th May.
Cemeteries will reopen on 11th May but funeral ceremonies will still be limited to 20 people.
Town halls will continue to propose, unless urgently needed, the postponement of marriages.
Sporting and Cultural Events
Major sporting and cultural events will not be held until September.
All events that bring together more than 5,000 participants must be organised well in advance and declared to the prefecture, and will not be able to be held before September.
The 2019-2020 season of professional sports, including football, will not resume.
For the latest in-depth analysis, subscribe to our news service at France Insider.
France Insider is a subscription-based offer which has replaced our previous free Newsletter.