How Safe a Country is France?
Newly published figures provide us with the opportunity to examine if France really is a safer place to live than the UK.
There are many different reasons why people choose to relocate to France or in which to buy a second home, but one reason frequently cited is the lower level of crime.
Despite the odd urban riot that breaks out from time to time, France is viewed as a comparatively civilised and safe country.
That impression does indeed seem to be borne out by official crime figures that have recently been published.

The report Criminalité et délinquance constatées en France 2011 states that there were 3.3 million police recorded crimes in France last year.

This compares with the 4.1 million recorded crimes in England and Wales in 2010/11 in figures provided by the Home Office. Figures for Scotland and Ireland are collected separately, but if added they would take the UK total reported crimes to around 4.5 million.
So the number of recorded crimes in France is around a third lower than that in the UK.
What of the nature and severity of these crimes? Here again there are differences, but not always to the advantage of France.
The figures below are for England and Wales only, not Scotland or Ireland.

Property Crime

The largest group of offences in both countries is that of burglary and theft. In France there were 2.1 million 'atteintes aux biens' last year, while in the England and Wales the number was 2.8 million.

When these figures are disaggregated some interesting differences and similarities emerge.
Thus, the number of residential burglarlies is not so dissimilar; there were 258,000 residential burglaries in the England and Wales compared to 216,000 in France a difference of 16%.

As far as vehicle related thefts was concerned then France comes out less favourably with 552,000 such offences against 450,000 in England and Wales.

France compares more favourably is on miscellaneous theft, which show there were over 1 million such offences in England and Wales, compared to around 600,000 in France.
If measured against the level of population these figures give France a property crime rate of 34 per 1000 population, while for England and Wales the rate is 52/1000.
Assault
So much for burglary and theft. What now about the other main category of crime, that of assault? The category includes both violent and non-violent assault, such as sexual and racial offences and child abuse.

Here the differences are very substantial indeed with 468,000 such offences being reported in France, while in England and Wales the number was nearly twice as high at 822,000.
If measured against the level of population this gives France a crime rate for assaults of 7.5/1000, while for England and Wales it is 15/1000.

The difference in the total number of assaults is even greater when only reported crimes of actual bodily harm are compared. In France the number is 192,000; in England and Wales it is 328,000, a difference of over 70%.

Fraud
Where France compares badly against the UK is in the number of crimes of fraud and forgery. While in England and Wales the number of such crimes was 145,000, in France it reached 350,000.

Does these figures mean the British are a more violent race, while the French more dishonest? Not necessarily, but it does fit a certain stereotypical image!
Regional Crime Levels

What is evident from both sets of statistics is that crime in both countries is primarily an urban phenomenom, and that the far higher population density in the UK (England is the most crowded country in Europe) seems to spawn the higher level of crime that takes place.

We do not have space here to review the UK figures on the spatial distribution of crime, but the table below shows the number of crimes of assault and for property crime for each region of France.

Crime Levels France 2011

Region

Assault

Property



Alsace
11,319
45,296
Aquitaine
15,597
98,288
Auvergne
5,294
27,303
Lower Normandy
6,894
32,263
Burgundy
7,434
40,481
Brittany
13,525
74,842
Centre
14,214
69,220
Champagne-Ardenne
8,281
39,293
Franche-Comté
5,717
26,259
Higher-Normandy
13,505
55,019
Ile-de-France
143,105
558,386
Languedoc-Roussillon
19,001
115,938
Limousin
2,730
14,481
Lorraine
13,103
58,438
Midi-Pyrénées
15,738
92,242
Nord-Pas-De-Calais
37,198
140,570
Pays de la Loire
17,018
94,171
Picardy
13,572
55,641
Poitou-Charentes
7,408
47,956
Provence-Alpes-Côte D'Azur
54,156
242,240
Rhône-Alpes
40,435
209,712
It will be seen that the most violent region is also the most populated region in the country, the Ile de France, including within it the capital Paris. Not only did it have the highest number of assaults, but also the worst crime rate per 1000 population - 12/1000. It is followed by Provence Alpes Côte d'Azur with an assault rate of 11/1000, and Nord-Pas-de-Calais at 9/1000.

By contrast the more rural regions have substantailly lower crime rates. The lowest was in the Limousin (3.7/1000), followed by Auvergne (3.9/1000) and Burgundy (4.5/1000).

Even wider variations emerge if the figures are examined at a departmental level. They show the Paris suburb of Seine-Saint-Denis has a rate of 20.6/1000, while at the other end of the scale the Creuse department in the Limousin has a rate of 2.3/1000.

In relation to burglary and theft (including vehicle theft) the picture is a very similar one, with Provence Alpes Côte d'Azur heading up the table with a crime rate of 49.6/1000. Next is the Ile-de-France (47.6/1000) followed by Languedoc-Roussillon (44/1000). Lowest rates are in Limousin (19/1000), Auvergne (20/1000) and Lower Normandy (22/1000).

The urban/rural differences are also evident here, with Paris having the worst rate of 64/1000, while holding up the table is once again Creuse at 9.7/1000.
On the basis of these figures, if your relocation choice is to be based solely on crime levels, then Creuse in the Limousin appears to be the safest department in France in which to live!
Departmental Crime Levels
The following table shows the crime rate for assaults in each department of France. It is followed by a table showing the property crime rate per department.
To enlarge just click on each image.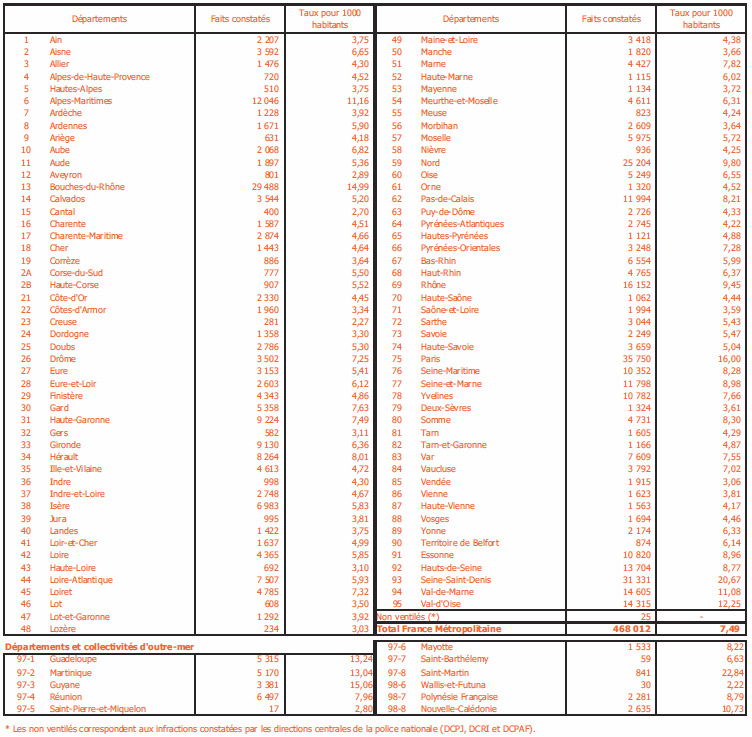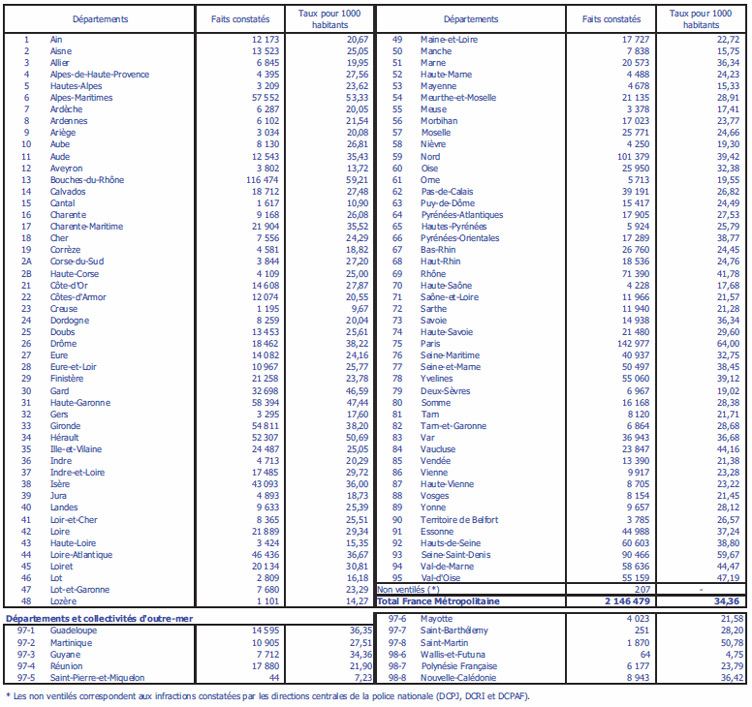 For the latest in-depth analysis, subscribe to our news service at France Insider.
France Insider is a subscription-based offer which has replaced our previous free Newsletter.