Red Light on Speed Camera Warning Signs
The French government has announced that speed camera warning signs are to be removed from all roads in France, as part of a range of road safety measures.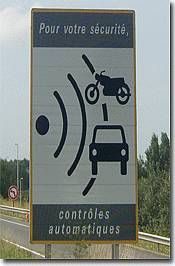 Not only will the warning signs be removed, but information about the location of fixed radars will no longer be made publically available.
The government has already withdrawn from their own website the map indicating the location of speed cameras.
Some prefectures have also already used the announcement to start taking down the signs.
The number of fixed radars has substantially increased in recent years, and, as part of the new measures, a further 1000 are to be installed by the end of 2012.
The government is to also experiment more widely with a new generation of radars, able to measure the speed of vehicles over a specific distance within a designated zone, and to distinguish between different types of vehicles and their permitted speed limits.
Detection Systems
One other notable measure that has been announced is to ban the use of speed trap locator alerts.
The use of specific equipment to detect radars is already outlawed in France, but there remain systems (Coyote, Inforad, Wikango) that do indicate the location of radars, and which remain legal.
Other GPS navigational systems (TomTom, Mappy, Garmin) also have radar detection as an option.
In future, the sale, manufacture or importation of radar detection devices will be punishable by up to two years in prison and a fine of €30,000.
The use of such devices will also be punishable by a fine of up to €1500 and loss of six points on the licence.
There are around 5 million of these devices currently in circulation in France, so just what the government proposes to do about them remains unclear.
One recent entrant to the market (Avertinoo) is a smartphone application, making it even more difficult to apprend offenders. Similar applications from companies based outside of France will also make it difficult for the government to properly enforce this law.
There are also significant employment implictions within France for the companies producing these systems, so it remains to be seen just in what final form the law will be passed.
Mobile Phones
There will be tougher penalties for using a mobile phone whilst at the wheel, increasing the fine from €35 to €135, and an increase in the loss of points on the licence from two to three.
A recent study by the Institut national de recherche sur les transports et leur sécurité - Inrets) found that mobile phone use whilst driving was the cause of one in ten accidents.
The use of hands free mobile telephones will continue to be permitted.
Speed Limits
Exceeding the speed limit by over 50 km/h will incur a three month prison sentence, a fine of €3700, and six points on the licence (out of 12).
Alcohol
The government considered a reduction in alcohol limits, but decided in the end to stick with the existing limit of 0.5 grams/litre.
Nevertheless, when a driver is found to have more than 0.8 g/l they will lose eight points on their licence.
Presidential Elections
These measures are being introduced with some alacrity due to an increase in road deaths this year.
The move is probably also in preparation for the presidential elections next year. In his 2007 election campaign Nicholas Sarkozy undertook to reduce road deaths in France to under 3,000 by 2012.
Last year the number killed on the roads was 4,200, a significant improvement on around 7,000 deaths ten years ago and the carnage of around 17,000 deaths per year in the 1970s.
If the measures are finally enacted it could well rebound on the President, for polls show around 80% of the population opposed to the abolition of radar warning signs and there is hostility to the change amongst the majority UMP party.
For the latest in-depth analysis of French property ownership and living in France, subscribe to our sister-site France Insider.
France Insider is a subscription-based offer which has replaced our previous free Newsletter.