Mayor in Scandal Fails at News Blackout
An attempt by a mayor to keep the lid shut on a financial scandal, by buying up all local copies of a newspaper, has spectacularly backfired.
Joëlle Ceccaldi-Raynaud is the mayor of the swish Parisian suburb of Puteaux, which is next door to Sarkozy's home base, Neuilly-sur-Seine, in the Hauts de Seine department.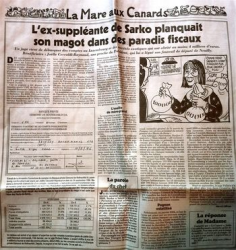 Last month, the satirical weekly newspaper Le Canard Enchaîné revealed that she was to be questioned by the police in connection with alleged bribes paid during the attribution of a lucrative council heating contract.
The newspaper claimed that the police had found bank accounts in two tax havens in Miss Ceccaldi-Raynaud's name totaling around €4 million.
When questioned by judges she is cited as saying the money came from her grandmother.
It seems the police were tipped off about Miss Ceccaldi-Raynaud's alleged accounts by her father, Charles, the former mayor.
Father and daughter have been at each others throats for years. Charles Ceccaldi-Reynaldi was also charged with favouritism and corruption in 2007.
In a rather silly attempt to prevent news of the allegations breaking out in her constituency, the mayor sent out her staff to buy up all copies of the paper from local kiosks.
Kiosk owners confirm not only that they had received a visit from the town hall with an official branding a debit card, but that they had also been warned not to restock their kiosk or face reprisal action of an unspecified nature.
If it was the intent of the mayor to keep the allegations from her local constituents it seems to have badly misfired, for it was being widely reported all over the web, and copies of the newspaper were later being distributed around the commune by opponents of the mayor. As a result, sales of the paper in the commune reached a record level.
Joëlle Ceccaldi-Reynaldi has denied the accusations and announced that she would sue Le Canard Enchaîné.