The Princess and the Frog
Wednesday 05 October 2011
The marriage of a beautiful 42 year old Parisian woman to a 67 year old retired farmer has shocked the inhabitants of Puy-Saint-Pierre in the Hautes-Alpes.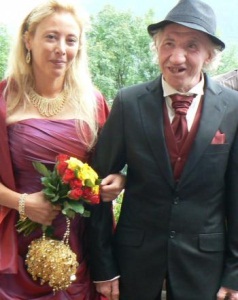 Photo: PQR
Sandrine Devillard seems, at least on appearances, to be the opposite of Marcel Amphoux, a man 25 years her senior, who could hardly be described as an archetypal handsome prince.
For most people in the village of Puy-Saint-Pierre the reason why Sandrine married Marcel is clear; she is only interested in his wealth. Marcel happens to be the largest landowner in the village, with valuable landholdings located near the ski resort of Serre-Chevalier. He is said to have inherited the land from his parents.
Sandrine also happens to be an estate agent based in Paris, who met Marcel when she was visiting a friend in the village.
Such was the strength of feeling aroused in the village that during the marriage ceremony a group of friends and acquaintances of this allegedly eccentric bachelor sought to disrupt the proceedings.
Even the mayor of Puy-Saint-Pierre who conducted the marriage questioned the motivations of the couple, so much so that he insisted on a prior investigation by the police. "I had doubts. It was certainly odd that a woman like that should fall in love with Marcel", said Jean-Marius Barnéoud, the mayor.
The couple were duly questioned by the police who found no objection to their union. "There was a preliminary investigation to ensure that both people are willing to marry and Mr. Amphoux repeatedly stated his desire to do so", said Phillipe Toccanier the local procureur.
The couple are said to have taken their honeymoon in Paris, where Marcel is reportedly to have enjoyed the new-found delights of café society.