Mobile Phone and Internet Charges in France
Tuesday 01 September 2009
Mobile phone charges in France are above the international average, but the country offers better value for a broadband connection.
These conclusions are contained in a report from the OECD on 'Communications Outlook 2009' which examined mobile phone and internet prices across 30 countries in the world.
The report placed France in 20th position for an average mobile phone user, while the country had one of the cheapest monthly subscription charges for a high-speed broadband connection.
One of the reasons for the higher mobile phone charges in France is the basic subscription cost, which is higher than most other countries.
Charges were lowest in those countries where the main cost was the call charge itself, benefiting most low usage users. The average annual cost for a low usage mobile phone user in France placed it in 22nd position out of 30.
That having been said, within Europe, mobile phone charges in Italy, Greece, Germany and Spain were all more expensive than France. Indeed, costs in Spain are amongst most expensive on the planet.
In comparing mobile phone costs by level of usage, the report shows the following monthly figures for the lowest cost country, the OCED average, and the costs for France:
Low Usage - 360 minutes of voice calls, 396 SMS messages and 8 MMS over one year

Netherlands : €7.72
Average OCED : €18.67

France : €22.22

Medium Usage – 780 minutes of voice calls, 600 SMS messages and 8 MMS messages

Denmark : Less than €3
Average OCED : €9.60

France : €12.70

High Usage - 1,680 minutes of voice calls, 660 SMS messages and 12 MMS messages per year

Denmark: €10.75
Average OECD: €28.75

France : €35.50
Most experts consider that one of the main reasons for the generally higher charges in France is the lack of competition. Orange is the market leader, controlling over 50% of the market. The other two players are SFR and Bouygues.
In October the French government is to announce the award of a fourth mobile telecoms licence (widely rumoured to be going to 'Free') that should bring prices down.
Internet Charges in France
In relation to internet broadband services, France has the lowest monthly subscription cost in the study for medium speed connections between 2.5Mbits and 10Mbits, as well as for high speed connections between 12Mbits and 32Mbits.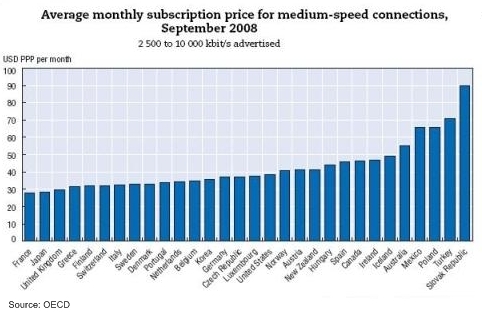 However, the availability of these speeds is not as widespread in France as it is in many other countries, although there has been significant progress on improving the network over the past three years. The French government also appears to be committed to substantial further development of the high speed network.
In relation to low speed connections between 256Kbits and 2.048Mbits, France comes in 17th place out of a list of 30.
The OECD study makes no recommendations about best buy offers for mobile or internet contracts, and we sympathise with anyone looking to evaluate the different contracts that do exist!
For the latest in-depth analysis, subscribe to our news service at France Insider.
France Insider is a subscription-based offer which has replaced our previous free Newsletter.