New French Population Figures
Those regions on the French Atlantic coast and around the Mediterranean show the strongest population growth, according to figures from the French National Statistical Office, INSEE.

The latest figures show that mainland France had a population of 61.3 million in 2006, an increase of 2.3% since the last census was carried out in 1999.
The increase in overall population is explained mainly by a higher birth rate over deaths, with 834,000 births over 543,000 deaths.
France has one of the highest birth rates in Europe, and with life expectancy rising each year, there are now 5.6 million people aged 75+ living in France, an increase of one-third in the last ten years.
The overall growth in population disguises a big increase in the population of certain regions of France due mainly to migratory influences.
The largest percentage increase occurred in Corsica, up by 13%, which was closely followed by Languedoc-Roussillon, where the population went up over 10%, from 2.3 million to 2.5 million inhabitants. This was nearly five times the national average. In strict numerical terms, the region had the highest population growth in France.

A fairly similar picture emerges in Aquitaine and Midi-Pyrenees, where the population grew by 8.8% and 7.3% respectively. The Pays de Loire (+7.1%), Provence Alpes Côte d'Azur (+6.9%) and Rhône-Alpes (6.7%) were also regions with a dynamic level of demographic change. Outside of the Ile de France, the Rhône Alpes has the largest population in France, with over 6 million inhabitants.
Only one region has seen its population go down since 1999, that being Champagne-Ardenne, although the change was limited to -0.26%.
The population in other regions in the North and East remained fairly stagnant.
All the major cities of France (Paris, Toulouse, Marseille, Lyon and Bordeaux) show an increase in their population. The population of Paris rose from 2.12 million in 1999 to 2.18 million in 2006, an increase of 60,000. There was also significant growth in the conurbation around Toulouse.
However, this was not mirrored everywhere across the country, with the towns of Brest, Le Havre, Caen and Cherbourg amongst those towns actually losing population, mainly it seems to 'industrial reorganisation'.
These population figures are awaited anxiously by local politicians and officials, as they are used in the calculation of central government grants to the local councils.
Amongst the larger countries in Europe (Germany, Italy, Spain, United Kingdom, Poland and France) France continues to be one of the least densely populated, with a density of 113 inhabitants per km2, whilst the UK heads up the list, with a density of 251 inhabitants per km².
Population Density in 2006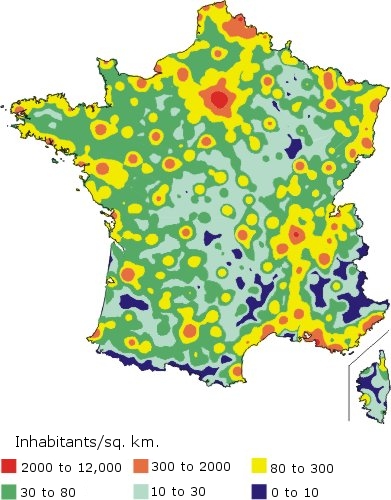 For the latest in-depth analysis, subscribe to our news service at France Insider.
France Insider is a subscription-based offer which has replaced our previous free Newsletter.