It may be Pink, but it's not Rosé Wine
French wine growers are protesting against EU plans to permit the blending of white and red grapes to produce rosé wines.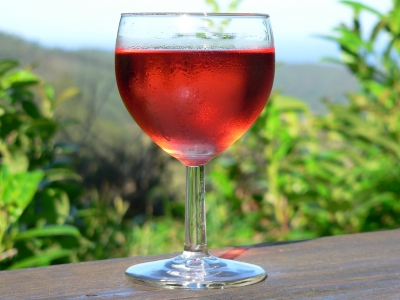 The proposal has emerged as part of a package of measures from the EU Commission aimed at assisting the European wine industry with an assault on world markets.
When the issue was considered by the EU in January, it received the support of the French government who clearly did not imagine it would unleash the fury that has occurred.
In the face of opposition from their wine growers they have now had to make a sharp volte face.
Most of the protest has come from wine growers in Provence, by far the largest producers of ordinary rosé wines in France.
Indeed, France is the largest producer of rosé wines on the planet (accounting for around one-third of the total production), so any change in the regulations that gives greater flexibility in the production process is likely to hurt them.
In recent years, the consumption of rosé wine has risen considerably throughout the world, helped in large measure by the image it has been able to develop as a symbol of décontractée, elegant sunny lunches spent around the garden table.
French wine growers are clearly alarmed that a more homogenised product is going to take the shine of any sense of style attached to their wines.
They argue that mixing white and red grapes smacks too much of wine made for the mass market. Unfortunately for the growers, this is precisely what is intended by the EU plan!
In the traditional process, rosé wine is made from red grapes, but with the skin removed at an early stage during maceration, leaving the otherwise colourless grape juice a pinker shade of pale.
French growers claim that this process is more expensive than merely mixing white and red grapes, so it will put them at a cost disadvantage.
Outside of Europe, the mixing of white and red grapes to produce rosé wine is widely practiced. Even within Europe, it is permitted, but on a restricted basis to AOC wines, and few adopt the practice.
In the production of pink champagne the blending of white and red grapes does take place, and some Spanish rosé wine is made in this manner.
Ordinary vin de table are excluded from blending, but this is mainly a hangover from the days when wine producers got EU subsidies, a measure designed to control fraud.
As subsidies for wine production have been phased out in Europe, the EU considers these production constraints are no longer necessary. Whether the consumer will agree remains to be seen.
Michel Barnier, the French Agriculture Minister, has been able to stall a final decision until the 19th June.
However, it seems unlikely that he will be able to obtain a major change, as he risks uncorking the whole packing of measures that have been agreed. That could still happen.
A compromise proposal that is making the rounds is for the French producers to be allowed an exception française, so that they could label their wine 'vin traditionnel', thereby making clearer their more authentic production method.