The Population of Rural France
One in three of the population of France live in a rural area, according to a new study by the French national statistical office.
In a vast, detailed portrait of France, published last month, Insee the statistics agency, sets out to define the boundaries and the population of rural France.
According to the study, the rural areas of France comprise 88% of all local councils and 33% of the population.
The agency bases their definition of 'rurality' on the population density, not as previously the number of inhabitants in a commune.
Those areas of 'low-density' and 'very sparse' population are considered to be rural areas.
The graphic below shows the population density of France. The most densely population areas are coloured dark red, whilst the least densely area coloured dark green.
The average level of population in France is 119//km², but in rural areas it is substantially lower.
Those departments having the lowest population density are in more mountainous areas of the country, such as is Lozère in Languedoc-Roussillon, where there are only 15 inhabitants per km².
Low densities are also found in other mountainous areas, such as Creuse (21/km²), Alpes-de-Haute-Provence (23/km²), Hautes-Alpes (25/km²), Cantal (25/km²), Ariège (31/km²) and Aveyron (31/km²).
However, there are several other departments with similar levels, but without the same geophysical characteristics.
They include Haute-Marne (28/km²), Meuse (29/km²), Nièvre (29/km²), Gers (30/km²), Indre (32/km²), Lot (33/km²), Landes (44/km²) and Dordogne (45/km²).
In contrast, the administrative area with the highest population density is Paris, with 20,386 inhabitants per km².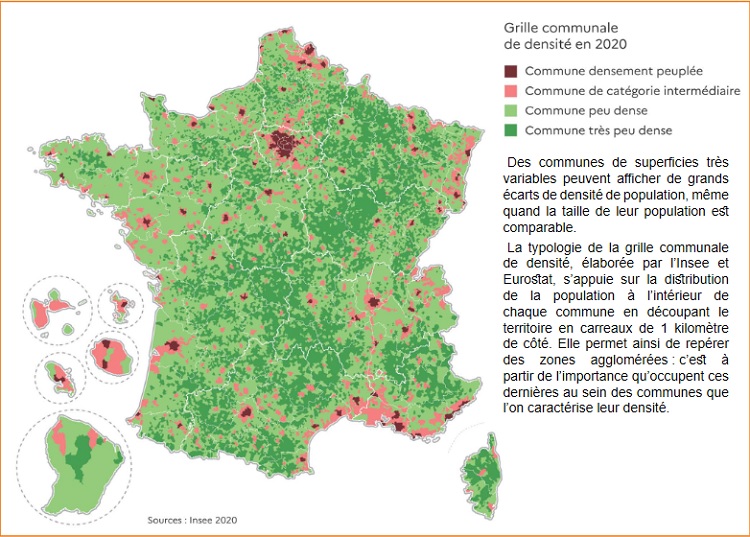 On a European level, France is the second most rural country in Europe after Poland, where the rural population is 45%, against a European average of 28%.
The graphic below shows population density across Europe, with the UK having one of the highest densities of population of over 275 inhabitants per /km² (432 England), compared to 119/km² in France.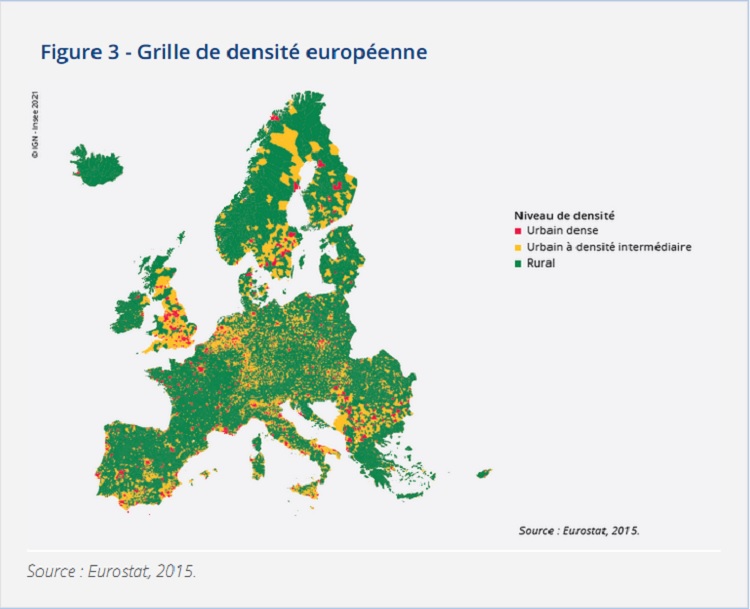 Although the authors consider that rural areas in France are very disparate, they retain one common feature: income disparities are much lower than in the urban areas.
Overall, living standards are lower the further away from the urban areas. Thus, in rural areas under heavy influence of a major urban centre, half of the inhabitants have a of living standard below €23,220 per year; in the very low-density rural areas this median standard of living is only €20,040 per year.
And the share of people living below the poverty line also varies significantly between rural and urban areas: 8.5% in rural areas near a major metropolitan area and 17.0% in sparsely populated autonomous rural areas, a higher rate than in urban areas (15.6%). In the countryside, they are more likely to be elderly people with low pensions, whereas in the cities they are often young people, especially single-parent families.
For the latest in-depth analysis, subscribe to our news service at France Insider.
France Insider is a subscription-based offer which has replaced our previous free Newsletter.