French Winegrowers Blown Over by Storms
Winegrowers from the Pyrénées to Alsace have been hit by storm damage again this year, but only a minority have adequate protection against financial losses.

Despite a hot and sunny start to the summer this year in France the skies have not been kind to French winegrowers, for a serious of localised, lightening hailstorms have ravaged many vineyards across the whole of the country.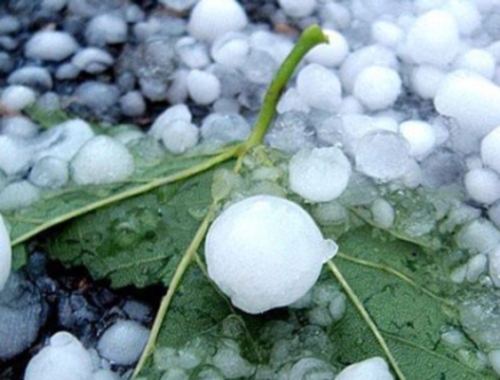 In early June a violent hailstorm swept across parts of the Medoc around Bordeaux up through to the vineyards of Cognac in the Charente.
Around 2,000 hectares of wines were damaged in the Medoc, in the worst affected vineyards destroying up to 80% of the crop.
By the middle of the month, in a rare hailstorm for the area, around 250 hectares of vineyards La Clape in the Herault department of Languedoc were also hit.
Some of the prized vineyards in Burgundy suffered severe hailstorm later in the month, destroying swaths of the crop in the Côte de Beaune region covering around 3,000 hectares of vines.
With the arrival of July the weather became more generally moist, and further storms severely damaged 13,000 hectares of vines in the area of Aude, when there were also isolated downpours in vineyards of Irouléguy, Pyrénées and in the Alsace region.
These storms and other major climatic events are now becoming a more familiar pattern in France.

It is the third year in a row that the vineyards of Burgundy have suffered severe storm damage and the wine regions of Loire and Entre-Deux-Mers were also stricken in 2013.
On average it is estimated that a winegrower in France suffers a loss of harvest of at least 20% every four years due to a climatic event.
Where the damage is severe this can mean that, not only are earnings for the year diminished, but there will also be a subsequent loss in the quantity and quality of the crop for two to three years.
Whilst there is unlikely to be universal sympathy for the plight of the wine barons of Bordeaux and Burgundy affected by such storms, the reality is that most of the 80,000 vignerons in France have a modest and irregular income, and these incidents are a real threat to their livelihood.

It is possible for winegrowers to take out insurance against Mother Nature, but only around 30% of them actually do so, covering around 15% of the 800,000 hectares of surface area planted.

For many, the high level of premiums that are payable for such cover make it impossible for most to lay off such risks. The cost of cover ranges between 2% to 10% of turnover, depending on the area and nature of the policy.
The quality of cover that is offered by such policies is also limited. In most cases there is a substantial excess of 25% and most policies only pay out if a minimum level of damage is caused, often not less than loss of 30% of the crop. Few will pay out for more than 85% of the losses and most set the cap at around 65%.

Where once the dirigiste French State was there to step in and assist in such emergencies, nowadays that is far from the case. Since 2011 viticulture has been specifically excluded from a government backed relief fund that paid out for specific 'calamités agricoles'. Neither is hail considered to be a 'catastrophe naturelle', which would otherwise trigger a more general scheme of government backed support.

In fact the French government have sought to achieve with viticulture what they have accomplished with most of their agriculture, which is to get Europe to pick up the bill. However, they had done so with less success. Winegrowers who benefit from support from Europe are able to get a grant towards a comprehensive policy, but few wish to take out a policy due to the limitations of the contract, accounting implications and delays in payment.
Given the increasing frequency and severity of such storms the withdrawal of the State is now under review, but it is unlikely to amount to much more than a mutualisation of risk amongst all wine growers and with only a limited range of 'in extremis' cover.
Some winegrowers have decided that the only real solution is to experiment with physical measures of protection, such as the use of anti-hail cannon and anti-hail nets, although their efficacy still uncertain and there are concerns about their effect on the vines. These measures, which are being trialled, have also yet to receive the full approval of the INAO, the French wine regulatory body.