Weather in France in 2013
Wednesday 05 February 2014
The weather in France in 2013 was wetter and less sunny than normal, but with temperatures broadly stable. We do a quick tour of the weather map of France for last year.

According to Météo France, the main climatic tendency in 2013 was the level of rainfall, which was in excess of average in the South-West, North East and the South- East.
Largest variances from normal occurred south of Champagne, on the Côte d'Azur and in the central Pyrenees, where the rainfall was 30% above average.
By contrast, rainfall was slightly lower than average off the coast of the English Channel, Picardy and the Ardennes, and on the coasts of Languedoc-Roussillon.
The annual level of sunshine duration was slightly lower in almost all parts of the country.
However, this deficit was somewhat more marked in Auvergne and the North East, while the values ​​recorded in the West and the Mediterranean conformed to normal.
It was not a year for any exceptional temperatures either up or down, with averages close to normal through the country.
However, spring was the coldest since 1987 and the wettest since 1959. The months of July and October were particularly hot.
Lower than normal during the first 6 months of the year, the average monthly temperature was then higher, except for the month of November.
The following images show the average shade temperatures across the country during the year.
Average Temperatures Jan-March 2013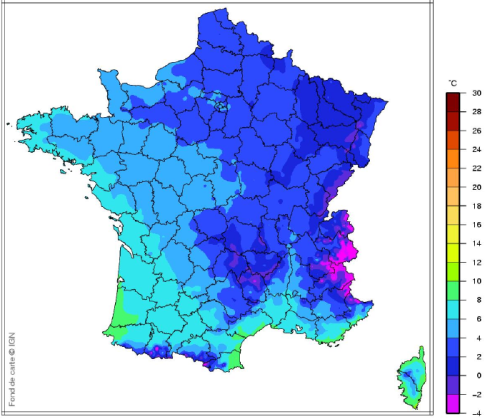 Average Temperatures April-Sept 2013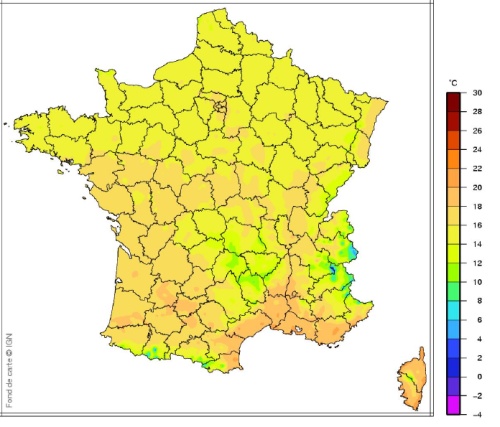 Average Temperatures Oct-Dec 2013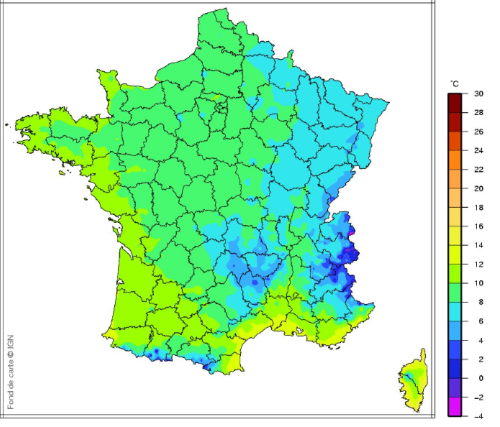 Source : Météo France