Winters in France Becoming Warmer
Wednesday 04 January 2012
France has been enjoying an exceptionally warm winter this year, and recent figures show colder days in winter have decreased by up to 25% over the past 40 years.
The following graphic of the map of France illustrates the percentage decrease in 'degree days', when the temperature has gone below 17°C during the period October to May each year.
'Degree days' is a meteorological measurement used to determine the severity and duration of cold weather; the colder the weather in a given month, the larger the degree-day value for that month (degrees multiplied by days).

It provides a summation over time of the difference between a base temperature (in this case 17°C) and the outside temperature.

As can be seen, in many parts of the country the number of days when the temperature has fallen to under 17°C during winter has gone down by as much as 25%.
The largest decreases have been observed for a number of locations in the South (Ajaccio, Montpellier, Mende, Albi, Nice, Montélimar, Nîmes, Marignane), on the Atlanatic coast (Bordeaux, Cognac, Agen, La Rochelle), but also in such places as Saint-Etienne, Lyon, Le Mans, Rennes and Lille.
Conversely, winters warmed up less in some high altitude regions (Hautes-Alpes, Haute-Corse, Haut-Rhin, Alpes-de-Haute-Provence, Ariège, Haute-Marne), as well as in other areas - Poitiers, Niort, Alençon, Reims, Dijon and Belfort.
Ministère de l'Ecologie, du Développement durable, des Transports et du Logement
Where is it Coldest?

When the cumulative number of days that fall below the base temperature is calculated it is then possible to establish those areas of the country that are the coldest. The higher the degree value, the coldest the weather over a given period.

Not surprisingly the following graphic shows that the winter period is on average warmer in those departments around the Mediterranean, the lower valley of the Rhône, the South-West, and the Atlantic coast.
Conversely, the period between October and May is most severe in the East, the Massif Central and the Northern Alpes.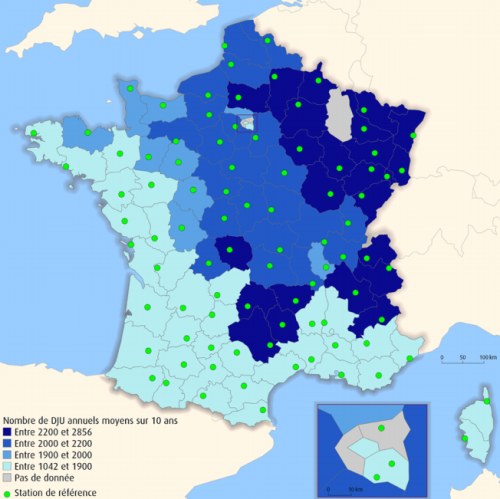 Ministère de l'Ecologie, du Développement durable, des Transports et du Logement
For the latest in-depth analysis of French property ownership and living in France, subscribe to our sister-site France Insider.
France Insider is a subscription-based offer which has replaced our previous free Newsletter.