The Best Places to Live in France
The Hautes-Alpes has been chosen as the best place for people 50+ to live in France, with Correze and Aveyron joining them on the podium.
The survey was undertaken by the French weekly magazine L'Express who each year offer their view of the best places to live in France, based on an analysis of a range of official statistics.
The overall results show a map of France skewed very much to the South, with a tone that is also rural. Other than the top three places, the rating favours those departments who have sought to preserve their attractive environment, such as Pyrénées-Atlantiques, Tarn, Vendée, Vienne, Gers, Deux-Sèvres and Corsica.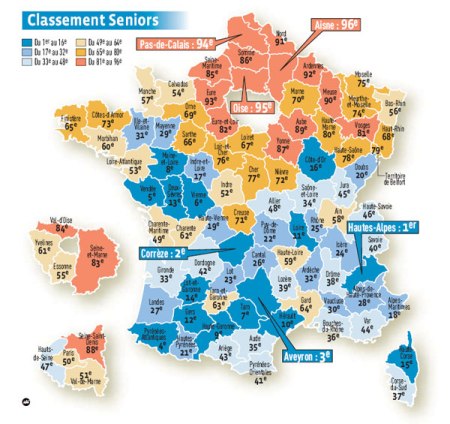 Best overall rating in the general classification went to the Haute-Garonne, but this rating was based on factors that would appeal to younger age groups and families, such as the quality of education, shopping and employment.
In order to determine the rating for seniors the magazine analysed the level of crime in each area, the weather, the quality of health care, the health of those who live there, the price of property, the quality of the environment, and the range of cultural activities.
Whilst the Hautes-Alpes was unable to pick up a golden accolade for any one of these factors, its overall average gave it top-spot. If it is only the weather that is of interest to you, then you are going to be driven to selecting from those departments in the Mediterranean areas, with Var and Bouches-du-Rhône taking equal first place in the survey.
Those looking for cheap property need to consider from the list of Indre in the Centre region, Nièvre in Burgundy, or Meuse in Lorraine, who take the top three places of cheapest department to buy property in France. Others in the top ten included the Creuse, the Correze, and the Haute Loire.

For those who consider health is their main priority, then you should consider living in Paris, the Bouches-du-Rhône or the Gironde. Top spot for the sheer quality of the environment goes to Lozère, followed by the Ariège and the Pyrénées-Orientales.
Needless to say, what makes a good quality of life for L'Express is not going to be everyone's taste, so the magazine has kindly provided an interactive graph from which you can select the factors that you consider most important, and then make your own choice.
For the latest in-depth analysis, and access to a Helpline, subscribe to our news service at France Insider.
France Insider is a subscription-based offer which has replaced our previous free Newsletter.