Favourite Village of the French 2015
The coastal village of Ploumanac'h, in the department of Côtes d'Armor, Brittany, has been chosen by the French as their favourite village in 2015.

This is the fourth year of the competition «Village préféré des Français», an event which is organised by the French television channel France 2.
The competition is very popular, with around 5 million viewers who watch each of the programmes broadcast over several weeks.
Last year's winner was the village of Cordes-sur-Ciel, in the Tarn department of the Midi-Pyrénées, whilst in 2013 it was the village of Eguisheim in the Haut-Rhin department of Alsace. In 2012 it was another village in the Midi-Pyrénées, Saint-Cirq-Lapopie that came top.
The basis of the selection for this competition is the charm, authenticity and beauty of the built environment, but this year the judges have also added the level of conviviality and respect for culinary traditions.

The hamlet of Ploumanac'h is a very beautiful and natural crescent shaped cove, once used by fisherman. It forms part of a highly attractive stretch of the Brittany, called the Pink Granite Coast because of its spectacular rock formations.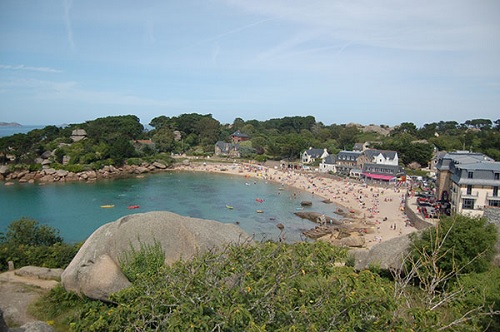 Also on the podium with Ploumanc'h were the villages of Montrésor in the department of Indre et Loire (Centre) and Saint-Antonin-Noble Val in the Tarn-et-Garonne department (Midi-Pyrénées).

The list of the top ten finalists in 2015 is as follows:
1 - Ploumanac'h -Côtes d'Armor - Brittany
2 - Montrésor - Indre et Loire - Centre
3 - Saint-Antonin-Noble-Val - Tarn-et-Garonne - Midi-Pyrénées
4 - Barbizon - Seine-et-Marne - Ile-de-France
5 - Terdeghem - Nord - Nord-Pas-de-Calais
6 - Bonneval-sur-Arc - Savoie - Rhône-Alpes
7 - Castelnou - Pyrénées-Orientales - Languedoc-Roussillon
8 - Ferrette - Haut-Rhin - Alsace
9 - Ault - Somme - Picardie
10 - Moutier d'Ahun - Creuse - Limousin
This competition sits alongside other official and non-official labels that have emerged to promote French heritage -
Les Plus Beaux Villages de France, Station Verte, Petite Cité de Caractère
,
Pays d'art et d'histoire
and
Concours des Villes et Villages Fleuri
s
.