The British in Nouvelle-Aquitaine
Thursday 07 December 2017
Around a quarter of British nationals who live in France are resident in the Nouvelle-Aquitaine region, according to the latest official census results.
According to INSEE, the French national statistical agency, some 150,000 British nationals live in France, with the Nouvelle-Aquitaine the most popular region, where 26% of them have chosen to settle, equivalent to 0.7% of the population of the region.
This new super-region, the largest in France, was created in 2015 out of the merger of the three former regions of Aquitaine, Limousin and Poitou-Charentes.
The next most popular region with the British is Occitanie (17%), followed by the Île-de-France (13%).
The report points out the relocation of British nationals to the Nouvelle-Aquitaine is a recent phenomenon, occurring largely since 1999. In 1968 only 840 British nationals who lived in the region, although many others owned second homes, as remains the case.
Most Brits have chosen to live in the rural areas, away from the coast and main towns, with the minor exception of Bordeaux and the Pays Basque.
Although precise figures are not given, the Dordogne and Charente are the most popular departments. The departments of Lot-et-Garonne, Deux-Sevres, Haute-Vienne and Vienne also have a strong British presence.
In some villages British nationals account for over a quarter of the population.
According to the census figures, the average age of the British nationals in Nouvelle-Aquitaine is 52 years, with half aged over 58 years of age and the majority of household economically inactive.
However, some 26% are engaged in employment, over a third of whom run their own business, 18% who hold a professional occupation, and 16% who are employees.
Interestingly the report points out that at a national level British nationals who are economically active out-number those who are inactive, with 36.7% either in employment or running a business against 34.7% who are retired or otherwise economically inactive (including students and unemployed).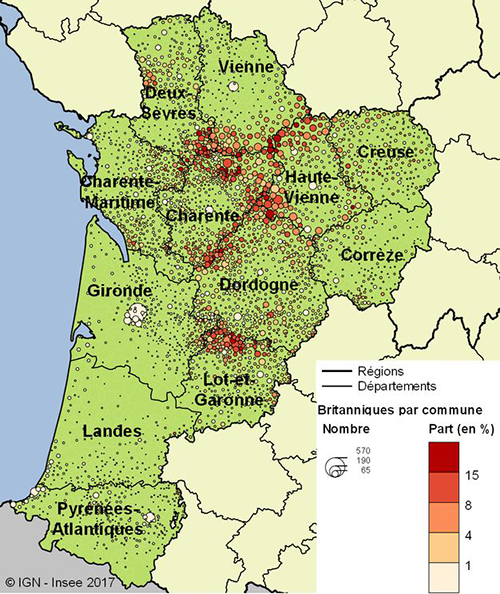 For the latest in-depth analysis, subscribe to our news service at France Insider.
France Insider is a subscription-based offer which has replaced our previous free Newsletter.