British Nationals Living in France
A recently published study from the French national statistical office provides an interesting portrait of the British who live in France.
According to INSEE, based on the lastest census results from 2016, 148,300 British nationals live in France, equivalent to 0.2% of the total population.

They are by no means the largest group of resident Europeans, coming in only fourth, behind the Portuguese (546,100), the Italians (194,600) and the Spanish (157,400).
However, of this cluster, the British are the most recent migrants to France, most of whom settled in France after 1990, since when their number has more than doubled to nearly 150,000. Most of the growth occurred between 1999-2006 and since 2011 numbers have declined.

The study also reports that there are 86,000 British non-resident second-home onwers, meaning that in total the best part of 250,000 British nationals own property in France. Former British nationals who have acquired French nationality have not been included in the figures.

The wave of migration over the past 20 years may well have been mainly retired couples relocating to the rural areas of the country, but that has not always been the case.
The study shows that, historically, most British migrants relocated to France for work, settling in the main metropolitan areas, principally Paris and environs. In 1990, 60% of British nationals in France lived in one of the main urban areas, whereas now only 25% do so.

Nevertheless, the metropolitan area of Paris (including the Ile-de-France) continues to have the largest concentration of British nationals, where over 18,000 have their home, but down from nearly 23,000 in 1990.
Some 41% of British residents (55,000) are employed or in business, a figure a lot lower than a great deal of reported information on this point, although small pockets of those with a professional activity may not have been picked up due to the methodology used. Slightly less (39%) are retired, another 9% merely registered as 'inactive', 5% are students or pupils, and 5% are registered as unemployed.

The following graphic shows the distribution of British nationals across France as a percentage of the total population. The British are concentrated mainly in a vast area stretching from the Haute-Vienne to the Gers, including the Charente and the Dordogne, in the two regions of Nouvelle-Aquitaine (39,200) and Occitane (24,900), where 43% live. The British are also strongly present in inland Brittany, south-western Normandy, Mayenne and in Savoie and Haute-Savoie.
The largest concentration of Brits as a percentage of the local population is in and around Morzine (Haute-Savoie), Le Dorat (Haute-Vienne) and Eymet (Dordogne).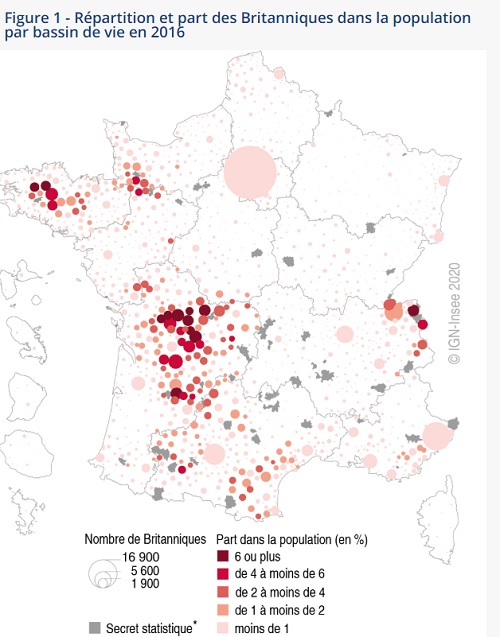 Source: Insee.
The table below shows the number of resident British nationals by region and department.
Despite the popularity of Dordogne, the department that has seen the largest growth in numbers since 1990 is Charente, whose British population has risen from a meagre 372 in 1990 to 6,220 in 2016, an increase of nearly 1,600%. The British population in Dordogne increased to 7,198 over the same period, but from a higher base figure of 1,492, an increase of 382%
Other departments with a significant number of British nationals are Alpes-Maritimes (5,256), Haute-Vienne (4,608), Côtes-d'Armor (4,566), Haute-Savoie (4,234), Haute-Garonne (3,957), Morbihan (3,681), Hérault (3,465), Aude (3,419), Lot-et-Garonne (3,366), Manche (3,285),Deux-Sèvres (3,282), Vienne (3,150), Ain (3,036) and Charente-Maritime (3,002).
However, the department with the largest percentage increase since 1990 has been Creuse (Nouvelle-Aquitaine), where the British headcount rose from 64 in 1990 to 2,107 in 2016, an increase of over 3,000%. It is followed by Deux-Sèvres (2,635%), and Mayenne (1,715%).
Conversely, since 1990 there has been a fall in the number of British nationals living in Paris, and growth in Provence-Alpes-Côte d'Azur has been modest.
Indeed, since 2011 there has been a net migration of British nationals from France, decreasing from 157,800 to 148,300 in 2016. With the fall in the Sterling rate and the impact of Brexit, it is likely that trend has continued, despite a possible spike this year.

British Nationals in France


Region/Dept



1990

2016


AUVERGNE-RHONE-ALPES



Ain
1,844

3,036

Allier
188

418
Ardèche
280

323

Cantal
48

175

Drôme
216

533

Isère
1,124

1,485

Haute-Loire
44

164

Loire
188
277


Puy-de-Dôme

380
771

Rhône
1,364
1,946


Haut

e-Savoie
1,012
4,234


Savoie

244
1,513

BRITTANY




Côtes d'Armor

436

4,566


Finistère

404
2,197
IIe-et-Vilaine
596
1,734

Morbihan



444
3,681
BOURGOGNE FRANCHE-COMTE

Belfort

68
73

Côte-d'Or

300
681
Doubs

200
168
Haute-

Saône

32
90
Jura

76
161

Nièvre

112
290

Saône-et-Loire

184
830

Yonne



172
374
CENTRE-VAL DE LOIRE

Cher

152
329
Eure-et-Loir

208
249
Indre

116
940
Indre-et-Loire

352
878

Loir-et-Cher



144
304
Loiret

312
221
GRAND EST

Ardennes

60
39
Aube

108
82
Haute-Marne

32
71
Marne

244
195
Meurthe-et-Moselle

248
180
Meuse

36
51

Moselle

164
297

Bas-Rhin

892
1,079
Haut-Rhin

404
1,049

Vosges

60
127
HAUTS DE FRANCE

Aisne
96
158
Nord
956
988
Oise
797
707
Pas-de-Calais
928
1,209
Somme
184
303

ILE-DE-FRANCE

Paris
8,894

7,499

Seine-Saint-Denis
1,160

985
Haute-de-Seine
3,180

2,432
Val-et-Marne
1,456
1,124
Val d'Oise
945

732

Yvelines
4,628

3,534

Essonne
1,056

844

Seine-et-Marne
1,458

1,448


NOUVELLE-AQUITAINE

Charente
372
6,220
Charente-Maritime
484
3,002

Corrèze
128
1,206
Creuse
64

2,107
Deux-Sèvres
120

3,282

Dordogne
1,492

7,198
Gironde
1,224

2,606

Landes
132
786
Lot-et-Garonne
760
3,366

Pyrénées-Atlantiques

484
1,671

Haute-Vienne
268

4,608

Vienne

212

3,150


OCCITANIE

Ariège
124

948

Aude
668

3,419

Aveyron
101

874

Gard
712

1,233

Gers
424

2,435

Haute-Garonne
1,368

3,957

Hautes-Pyrénées
112

1,196

Hérault
1,032

3,465


Lot

448

2,344

Lozère
36

53


Pyrénées-Orientales

580

1,832

Tarn
296

1,565

Tarn-et-Garonne
368

1,611


NORMANDY

Calvados

640

1,439

Manche

276

3,285

Orne

168
1,517

Eure

316

494

Seine-Maritime

852

748


PAYS DE LA LOIRE

Loire-Atlantique

560

1,230

Maine-et-Loire

312

1,242

Mayenne

116

2,106

Sarthe

212

520


Vendée

236

2,016

PROVENCE-ALPES-COTE D'AZUR

Alpes-de-Haute-Provence

124

340

Alpes-Maritimes
4,669

5,256
Bouches-du-Rhône

1,774

1,695

Hautes-Alpes

20
261


Var

1,688

2,671

Vaucluse

624

918