Brittany and Green Algae
Efforts over the past ten years to reduce green algae in Brittany have had a "limited" result, says the French National Auditor.
The report found that the algae, which is dangerous for the environment and humans, is still present in large quantities in eight bays
Two plans to reduce the amount of green algae in Brittany have largely failed, the Cour des comptes has found.
The auditor states that green algae had only slightly decreased in sandy areas between 2007 and 2020, and had increased on mudflats in the region.
It said that the two PLAV (plans d'action de lutte contre le phénomène des algues vertes) initiatives to combat the algae implemented by the State, local organisations, and water agencies since 2010 had only had a "limited" impact.
The algae started to grow along the Brittany coastline 50 years ago, due to excessive amounts of nitrogen and phosphorous being released into nearby rivers and the favourable land formation in nearby bays.
The algae needs be reduced, as it destroys ecosystems, including reducing animal life such as clams and mackerel, and makes beaches unusable.
Multiple deaths have also been reported in France since 1986 after people, horses and wild boar were exposed to toxic hydrogen sulphide gas produced by decomposing algae.
Data from 2021 shows that the algae is present along almost 50% of the Brittany coastline with 86 sites affected in Côtes-d'Armor, Finistère and Morbihan.
It typically emerges in springtime, and produces a rotten-egg smell.
Eight bays contain most of the algae with the largest amounts found in Saint-Brieuc, Fresnaye, Saint-Michel-en-Grève, and Côtes-d'Armor.
The graphic below shows changes since 2007 in the surface area of green algae over 8 green algae bays.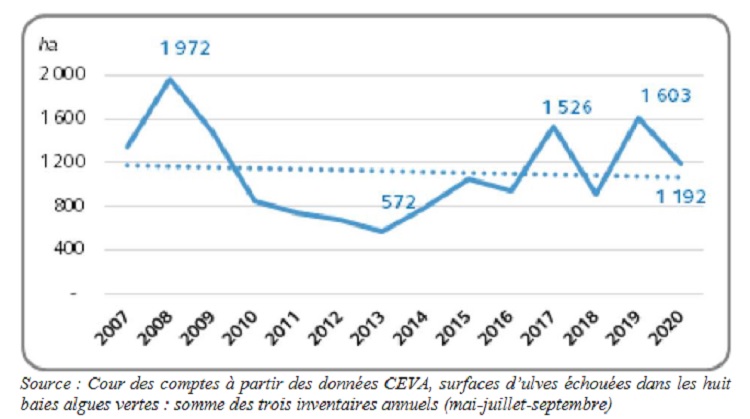 In Saint-Brieuc 10,890 tonnes of algae were removed by tractor in 2019.
The gulf of Morbihan is also affected, as it contains 34% of all algae found in mudflats in Brittany.
Levels of the nitrogen in the water must fall below 10mg per litre in order for there to be a significant decrease in algae levels, according to the leading campaign group Eau et Rivières de Bretagne.
In 2021, water tested in Saint-Brieuc was found to have a concentration of 71mg per litre.
Nitrate levels in rivers in Brittany were at 31.7mg per litre in 2018, and the graphic below amply shows the lack of progress since 1980.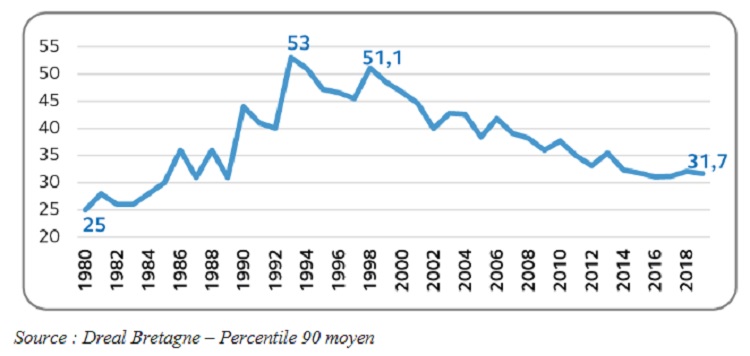 Much of the blame for the proliferation of the algae has been placed on local farmers.
The report said: "Scientific studies show that taking action to reduce nitrogen – 90% of which comes from agricultural sources – is the only way to limit the spread of algae."
But since 2015 nitrogen levels have stagnated, as local farmers have continued to use the chemical for farming.
Sophie Bergogne, President of the Chambre des comptes in Brittany said: "The whole agricultural model in Brittany needs to change direction if we want to fight against this phenomenon."
But Mayor of Hillion, in Côtes-d'Armor, Mickaël Cosson defended farmers in his commune saying that "22% of land was now being farmed organically".
He said the problem was the number of farms – in the land around Sanit-Brieuc alone there are 1,400.
In Côtes-d'Armor and Finistère there are 2,800, accounting for over 10% of all farmland in the region.
The auditor also suggested that farmers needed more support from authorities to change their practices.
Their report stated efforts to mobilise local farmers against the algae had "run out of breath" as farmers had not been properly involved in efforts to prevent nitrogen leaks, even though some farmers still received financial aid for doing so.
And the estimated €109 million invested agriculture to reduce algae was described as a "modest sum" in light of the estimated €435-€614 million allocated to Brittany in the past six years through EU Common Agricultural Policy subsidies.
The report said that only 19% of funds from the first PLAV and 25% of funds from the second PLAV were "put towards preventing agricultural nitrogen leaks", representing €13.7 million and €8.77 million respectively.
It also criticised the plans for having "poorly defined objectives, with unclear impact on water quality" making it "difficult to measure their scientific impact".
In 2022, responsibility for implementing the current PLAV will be taken over by water management agency Sdage Loire-Bretagne.
Cour de Comptes Recommendations
The auditors recommended five measures to improve the outcomes in the future:
Extending measures to reduce algae beyond the eight bays in Brittany using territorial contracts and water management plans;
Introducing precise, measurable objectives for reducing nitrate emissions and tracking progress towards them;
Changing incentives to encourage local farmers and food processors to adapt their agricultural systems;
Mobilising farmers and the agricultural industry to act;
Increasing checks to ensure that local farmers and food processors are respecting emissions rules.
Eau et Rivières de Bretagne said the report confirmed longstanding issues in fight against green algae in Brittany.
It agreed with the report that there was a "scandalous" lack of transparency when it came to data tracking which needed to be rectified.
In addition to recommendations from the Cour des comptes it also called for a reduction in livestock farming, which contributes to nitrogen emissions, in the area near the eight bays.
"We call for 30% of agricultural land used for this purpose to be converted and used for organic farming by 2027," it said.
For the latest in-depth analysis, subscribe to our news service at France Insider.
France Insider is a subscription-based offer which has replaced our previous free Newsletter.