Burglaries Fall in France
The French government have recently published their annual crime survey, covering the period 2018 to 2020.
According to the survey, in 2018 480,000 households were victims of a burglary or attempted burglary of their main residence, equivalent to 1.7% of all households.
Of the victims, 220,000 (45%) experienced at least one 'actual' burglary and 269,000 (55%) one or more attempted burglaries.
On average, 9% of victimised households experienced several burglaries or attempted burglaries during the year.
That means the total number of burglaries of main residences is estimated at 245,000, equivalent to 8 burglaries per 1,000 households, and the number of attempted burglaries at 312,000, equivalent to 11 attempted burglaries per 1,000 households.
That is a 11% fall on 2017, when burglaries reached an all-time high of 620,000 incidents (actual and attempted).
Making a complaint at a police station or with the gendarmes is a compulsory step in France to obtain compensation from an insurance company, despite which, complaints are far from systematic.
In the case of attempted burglaries, the authors state that 60% of victim households simply did not report the incident to the police or the gendarmes (71% for 'actual' burglaries).
The survey showed that most households are sceptical about the usefulness of their action, apart from insurance-related consequences.
In the context of the Covid health crisis, recorded burglaries of dwellings fell very sharply in 2020 by -20%.
The following graphic shows the number of incidents for the period since 2008. In blue are residential burglaries and in amber all burglaries.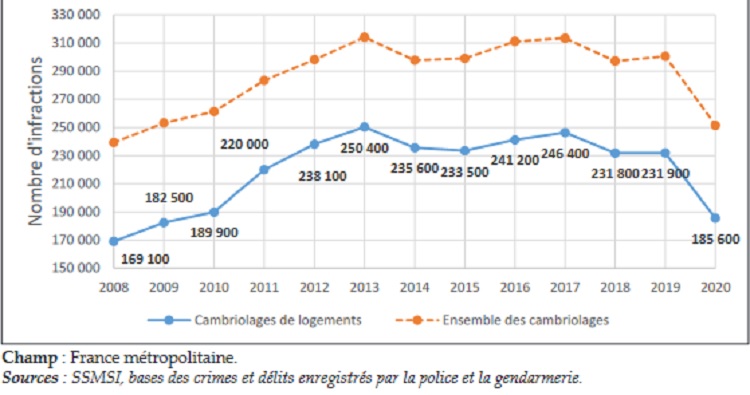 Crime Rates in France by Population
The graphic below shows the differences in crime rates within administrative areas by size of population.
In 2020 the number of burglaries recorded per 1,000 dwellings in rural areas and small and medium-sized towns was just under 4 out of every 1,000 dwellings.
The rate of burglary of dwellings is slightly higher in agglomerations with between 50,000 and 200,000 inhabitants.
Above 200,000 inhabitants, the rate reaches 7.5 and 7.2 burglaries per 1,000 dwellings in the provinces and the Paris conurbation, respectively.
Thus, the number of burglaries per dwelling is twice as high in large urban areas than in rural areas or small and medium-sized urban units.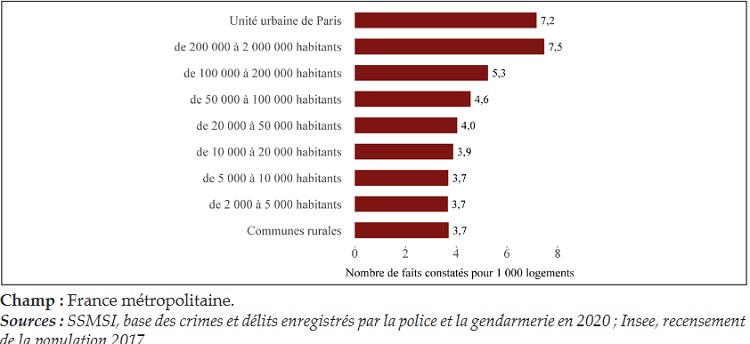 Crime Rates in France by Region/Department
On a regional level, the regions worst affected are Île-de-France and the Provence-Alpes-Côte d'Azur region, with 7.1 and 6.4 burglaries per 1,000 dwellings respectively, a rate of 0.4%.
The Loire-Atlantique, Gironde and Haute-Garonne are also among the departments most affected by residential burglaries, with more than 7.5 burglaries per 1,000 dwellings.
In contrast, the departments least affected by residential burglaries are Lozère, Manche, Hautes-Alpes and Cantal with less than 1.7 burglaries per 1,000 dwellings.
The following graphic shows the crime rate per 1,000 residential properties by department.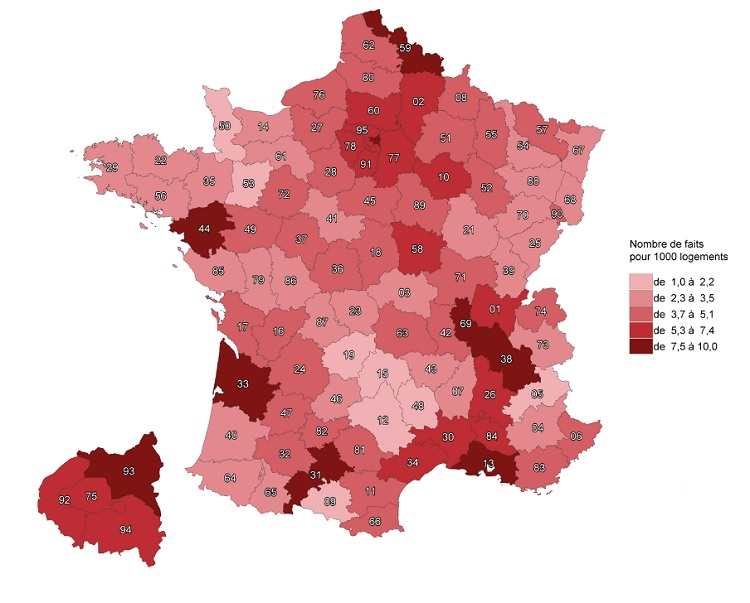 As a result of the health crisis, the number of burglaries recorded fell in almost all departments in 2020 compared to 2019.
The graphic below shows the variation between 2019 and 2020 by department.
Some departments stand out for the extent of the fall in the number of burglaries recorded in 2020 relative to 2019, by more than 40 %, as in Cantal, Tarn, Ariège, Lot and Haut-Rhin. On department, Gironde stands out for the marked increases in the number of recorded burglaries.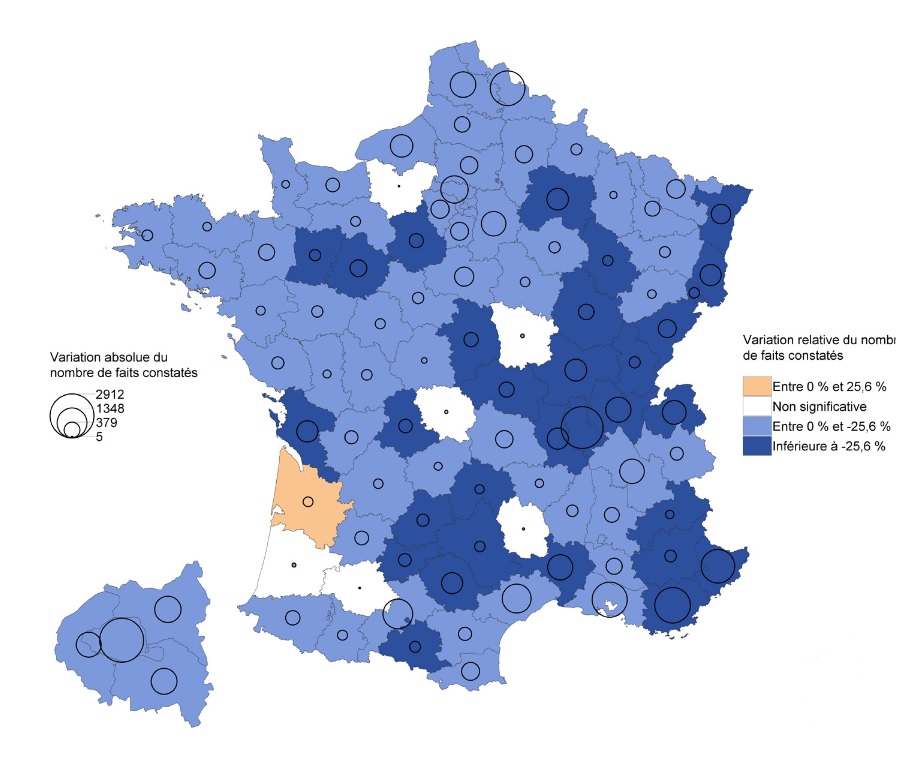 For the latest in-depth analysis, subscribe to our news service at France Insider.
France Insider is a subscription-based offer which has replaced our previous free Newsletter.