Exposure to Climate Risk in France
The heatwave that most of France is now experiencing has highlighted the impact of climate change, and a new report shows those areas that are most exposed to risks in the future.
Six out of 10 people in France have already been exposed to risks caused by climate change according to a report from the French government.
These risks involve weather phenomena such as heatwaves, storms and cyclones, ground movement, coastal erosion, forest fires, flooding and avalanches that can be linked in frequency and severity to the earth's changing climate.
More than half of France is susceptible to flooding and this is the most common phenomena, accounting for around two thirds of the 180 harmful natural events recorded in France between 1900-2017.
One fifth related to atmospheric events such as cyclones, hurricanes and storms.
Despite this, the majority of victims in these events (85%) were subject to heatwaves. The 2003 heatwave alone caused 15,000 deaths in mainland France.
In recent years France has been subject to even higher temperatures than those experienced in 2003, including the highest temperature since records began at 45.9C in 2019.
More than two thirds of the 180 events recorded from 1900-2017 were classed as "very severe" as they caused at least 10 deaths or more than €30million in physical damage. The frequency of very severe incidents has increased fourfold in the past 20 years.
In 2016 alone, 80% of municipalities were exposed to at least one climate risk, not including heatwaves, and 36% experienced two forms of risk.
The graphic below shows the population exposure level to these risks measured by population density and the number of climate risks present in each municipality.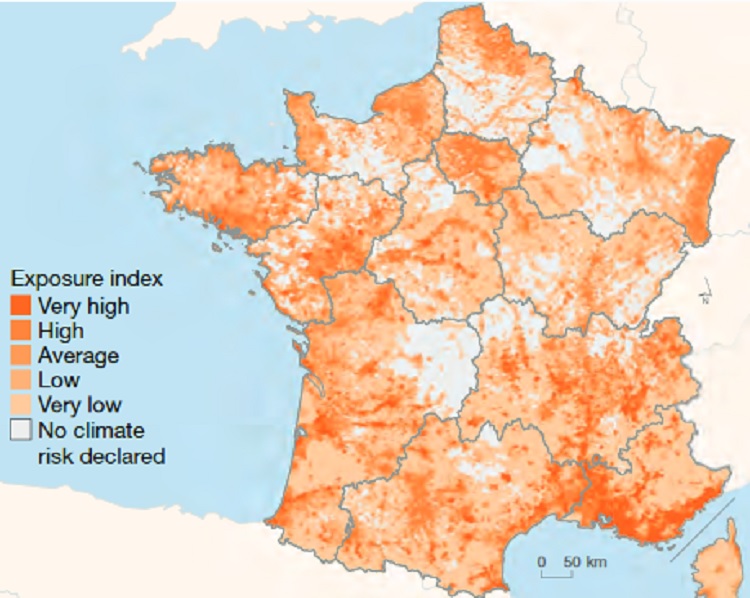 Areas with high population exposure levels are typically in growing towns and cities along waterways historically used as transport routes and in coastal territories under pressure to increase urban development due to tourism.
The types of climate risk that municipalities are susceptible to are classified as follows:
Flooding and ground movement, affecting two thirds of the population and almost half of all municipalities
Ground movement and forest fires, affecting 6% of the population and 16% of municipalities
Forest fires, flooding and ground movement, affecting 18% of the population and 14% of municipalities
Avalanches, affecting 2% of municipalities of which 90% are also susceptible to flooding and 85% to forest fires
Finally, there are also low-susceptibility territories, representing 3.6 million people and 20% of all municipalities. These are largely in rural areas with decreasing populations, fewer homes and local facilities.
The graphic below shows the risk susceptibility by nature of risk and geographical area.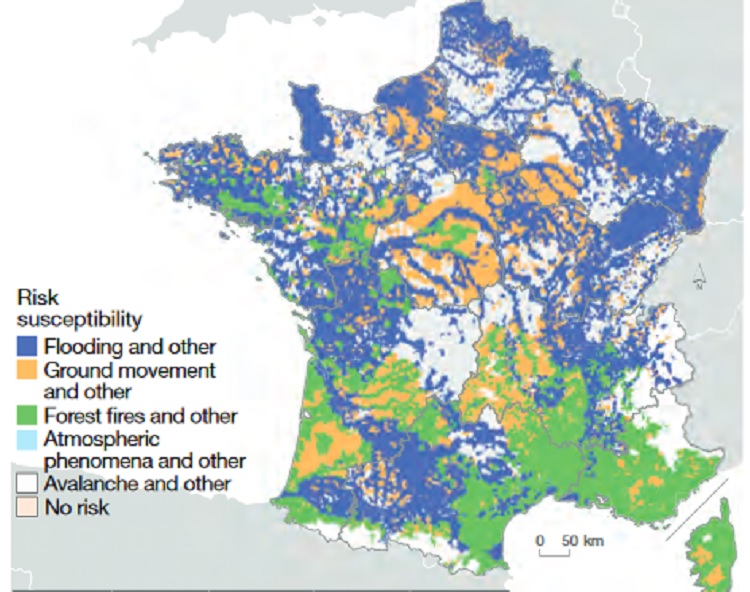 For the latest in-depth analysis, subscribe to our news service at France Insider.
France Insider is a subscription-based offer which has replaced our previous free Newsletter.