House prices are increasingly being influenced by the level of their energy rating, according to a recent study by the French notaires.
'Location, location, location' may well be most important attribute of a property in the determination of its price, but it seems that the level of energy efficiency, although a weaker determinant in comparison, is growing in importance.
According to a recent report from the French notaires, buyers are increasingly taking into account the energy rating of properties, which is resulting in a growing differential between the similar properties with different energy ratings.
They state that as between otherwise equivalent properties there is a price difference of up to 28% between a property with an energy rating 'A' or compared to one with a level 'G' energy rating.
The graphic below summaries the results of the study.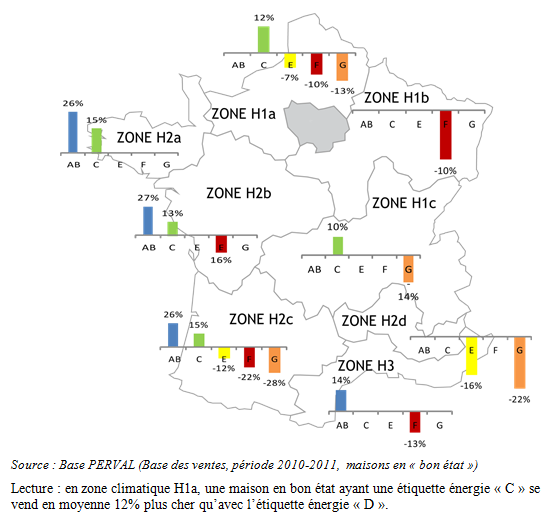 Inevitably there is an element of uncertainty in these calculations, but what they show is that:
For houses rated A to B the sale price is between 14% and 27% higher than an equivalent house with the rating D, depending on the region;
For houses rated C, the difference is 10% to 15%;
For houses rated E, the difference is 7% to 16%;
For houses rate F, the difference is 10% to 22%;
For houses rated G, the difference is 13% to 28%,
The notaires study is also confirmed in an earlier review undertaken by the energy agency ADEME, which found that energy rating of the property accounted for between 5% and 30% of the value of the property.
As a result estate agents and property analysts now talk of the emergence of 'green value' in their deliberations, by which they mean the additional net value released through improved environmental performance of a property.
The use of energy ratings in the sale or rent of accommodation is now uniform within the European Union, through the use of Energy Performance Certificates (EPC), which in France are called the Diagnostic de performance énergétique (DPE).
An EPC/DPE is an asset rating which is intended to inform potential buyers or occupiers about the intrinsic energy performance of a property.
In the same vein as consumer products, properties are rated on a scale of 7 bands 'A' to 'G' with band 'A' being the most efficient.
Studies carried out in France indicate that around half of the properties have an energy rating of 'D'.