Rural France Resists Change
A new report on land use in France shows just why many international buyers view France as an attractive place to buy a rural retreat.
The report* from the European Commission classifies only 5% of the surface area of the country as 'urban land'.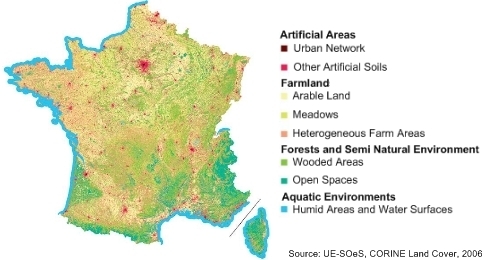 The vast majority of the country is composed of either agricultural land (60%), or forest and other natural space (34%). The balance is made up of semi-humid or wet areas.
By contrast, the percentage area of urban land in the United Kingdom is nearly 14%, three times higher than in France, a figure that rises to nearly 20% for England alone.
It is, therefore, not very surprising that surveys of French property buyers regularly show that one of the main attractions of France is the comparative tranquility of the country.
France has 113 inhabitants per km², whilst the UK has a density of 251 inhabitants per km², one of the highest in Europe.

While the report shows that agricultural land is having to give way to new development, it is happening at a snail's pace. Only 0.7% of the land area has changed use since the last survey was undertaken in 2000.
Clearly, the pre-eminent importance of French agriculture is one explanation for the dominance of the countryside, but another equally important reason is the nature of the land in France, with large mountainous areas and huge forests in different parts of the country, as well as the presence of ancient moorlands in the Landes and Sologne.
French Planning controls on development in the countryside have also been tightened in the last few years, as local councils seek to focus new development within and around existing settlement areas.
Accordingly, the vast majority of the new development has taken place on the periphery of existing conurbations, or along main transport routes.
Those areas that have seen the largest increase in population density have been the Ile de France, Nord Pas de Calais, Alsace, the Rhone Valley, and areas on the coast.
The largest percentage increase in land use has been the road and rail network, which has increased by 19% since 2000.
There has also been a significant growth in artificial lakes and reservoirs, a response by farmers and the water authorities to the increasing number of droughts that have occurred in France over the past decade. The report expresses concern about the impact of this trend, as they consider it causes the fragmentation of natural water resources and areas.
*CORINE (Coordination of information on the environment) Land Cover 2006.
For the latest in-depth analysis, and access to a Helpline, subscribe to our news service at France Insider.
France Insider is a subscription-based offer which has replaced our previous free Newsletter.