Obligation of Garden and Grounds Maintenance
Under specific circumstances, French law lays down an obligation of garden and grounds maintenance on property owners.
The obligation arises from three distinct public policy objectives:
i. Protection against wildfires;

ii. Protection of the environment;

iii. Public health and safety.
i. Protection against Wildfires
Under the code forestier property owners in many areas of the country are required to control brushwood/undergrowth on their property to act as a fire break in the control of wildfires.
This responsibility is called 'Obligations Légales de Débroussaillement (OLD)' whose legal definition is given as:
'Le débroussaillement est constitué par les opérations dont l'objectif est de diminuer l'intensité et de limiter la propagation des incendies par la réduction des combustibles végétaux en garantissant une rupture de la continuité du couvert végétal et en procédant à l'élagage des sujets maintenus et à l'élimination des rémanents de coupes.'
The general code is supplemented by local regulations which specify more detailed requirements.
The regions and departments on mainland France concerned by the law are Nouvelle-Aquitaine (except Corrèze,Creuse and Haute-Vienne), Occitanie, Provence-Alpes-Côte d'Azur and the departments of Ardèche and Drôme in the Auvergne-Rhône-Alpes region (31 departments in all), as shown on the graphic below.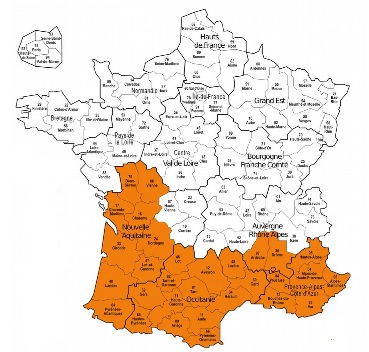 Within these departments not all communes are covered by the same set of rules, which vary according to degree of risk.
In the other departments, the prefet, after consultation with the local councils concerned, may impose the obligation on certain forest areas.
Where the requirement for débroussaillage does apply, in rural areas it concerns land within 200 metres of woods and forests, with an obligation on the owner to maintain to a depth of 50 metres from the perimetre of the property (construction) and 10 metres from private access roads.
In urban areas the obligation once again covers all properties within 200 metres of a wood or forest, but differs on the depth. In these areas, where there is a local plan (PLU) in place, there is a general obligation to ensure the proper maintenance of the whole of your land; where no PLU is in operation then the obligation concerns 50 metres around your property, which may be extended to 200 metres by local regulation.
Local regulations may also stipulate:

Pruning back of trees over a certain height;

Removal of low lying branches;
Minimum distances between trees;

Fire access requirements on private roads;

Permitted proximity of trees to buildings and;

Obligation to remove all vegetation cleared in the process of

débroussaillage

.
In practice, the requirements vary by level of risk; in many areas it amounts to no more than basic maintenance, but in areas of high risk it can be quite severe.
Those areas concerned will be shown on a map on the website of the local prefecture, which will also state the regulations that apply, which may be contained in a broader Plan de Prévention des Risques d'Incendie de Forêt (PPRIF). Details will also be available in the local mairie.

Where owners fail to carry out their responsibility, they may be subject to a fine, and the local council has the power to step in and undertake the work and to charge the owner. Disputes between the local council and owners over the works to be carried out is not uncommon.

In some areas of the country, councils or an association undertake the work on an agreed basis with local property owners, who pay a charge for their services.
If you fail to comply with these requirements then in the event of a fire on the land it is possible your house insurer could impose a supplementary charge refuse cover. Article L122-8 of the Code des assurances states:
'Dans le cas où les dommages garantis par un contrat d'assurance procèdent d'un incendie de forêt, l'assureur peut, s'il est établi que l'assuré ne s'est pas conformé aux obligations découlant des articles L131-4, L131-8, L131-12, L131-14 à L131-18, L134-4 à L134-12, L135-2, L162-2, L163-4 à L163-6 du nouveau code forestier, pratiquer, en sus des franchises prévues le cas échéant au contrat, une franchise supplémentaire d'un montant maximum de 5 000 euros.;
Against the backdrop of climate change and the large number of forest fires in France each year, the government have recently urged councils to ensure that the law is enforced, although many councils lack the resources to be able to properly do so.
ii. Protection of the Environment
There is also an obligation of garden maintenance that arises from protection of the environment.

Under the law, the local mayor is authorised to intervene to oblige a negligent owner, in specific circumstances, to tidy up their land.
The law states: "Failure by the owner to maintain undeveloped land located within a residential zone, or within a maximum distance of 50 metres from houses, outbuildings, building sites, workshops or factories, the mayor may, for environmental reasons, notify them by order of the obligation to carry out, at their own expense, the work of restoring the land, after formal notice. "
Strictly speaking, the law is subject to publication of an implementing decree, which has never been issued, but French courts have considered that the power is applicable even without the decree.
In addition, case law has defined the contours of the expression 'environmental grounds' broadly, such that abundant and vigorous vegetation could be considered as an environmental reason.
Recourse to these powers only occurs rarely (many mayors are reluctant to intervene), but if the owner fails to carry out the work the mayor may have them carried out at the owner's expense.
iii. Public Health
The mayor also has powers to intervene on abandoned private land that has become derelict to order work to be carried out to tidy it up.
This power arises from the role of the mayor as agent of the State and as the political representative of the local commune, giving them policing powers on public health and safety.
This power implies, in particular, taking every precaution to ensure an incident likely to jeopardise public safety or health does not take place, eg accident, illness, floods...
The mayor may, by virtue of this power, order work to ensure public safety and health, at the expense of the municipality.
For the latest in-depth analysis, subscribe to our news service at France Insider.
France Insider is a subscription-based offer which has replaced our previous free Newsletter.