A recent review of the residential lettings market in France for 2011 provides an interesting insight into rental levels across the country.
According to 'Clameur' (Connaître les Loyers et Analyser les Marchés sur les Espaces Urbains et Ruraux), the main observatory of information on rental levels in France, average rents nationally were €12.50m², an increase of 1.6% on 2010.

This is below the level of inflation, which was 2.1%, and also below the increase for 2010, when rents rose by an average of 2.5%.

The figures are for properties let on an annual bais, not for holiday lettings.
Highest rents were to be found in the Ile-de-France, where the average rental of €18m² was well ahead of the second placed region, Provence-Alpes-Côte D'Azur (€12.70m²).
The cheapest region to rent was Franche-Comté, where rents averaged €8.60m².
Although on a national basis average rental levels remained broadly the same, in the regions of Normandy and Limousin they fell by around 5%.
Professor Michel Mouillard, the author of the report, said the main reason for the lack of significant growth in rents was the reduced mobility of tenants, an increasing number of whom having decided to abandon or postpone relocation plans in the face of the economic downturn.
Although landlords in France are able to increase rents each year in line with an official inflationary index (which actually went up 2.11% last year), they are not obliged to do so, and most take the opportunity to raise rents on tenant changeover. So a reduction in tenant mobility reduces the rate of increase in rents.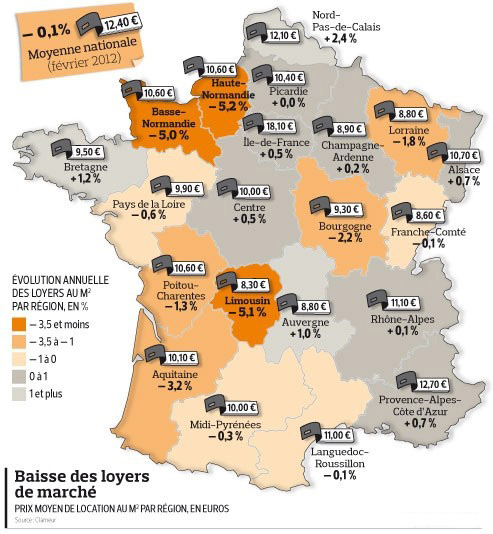 Cities and Towns

Within the cities and major towns the trend was marginally for a fall in rental levels. Of the 80 towns and cities examined in the study rents fell in 42 of them, with 38 showing an increase.

Those with the largest falls were Ruel Malmaison (-5.3%), Antibes (-4.9%), Rouen (-4.5%), La Rochelle (-4.2%) and La Reyne sur Mer (-4.2%).
Conversely, those towns and cities where rents rose by over 5% were Niort (9.0%), Nanterre (8.4%), Courbevoie (7.1%), Versailles (6.6%), Brest (6.2%) and Troyes (5.2%).

Despite their sobriquet, Clameur provide no information in the report on the level of rents for rural properties, due no doubt to the comparatively smaller, more varied size of the market.
Bigger is Better

In terms of an analysis by property type, rental levels of smaller properties went down in the year, whilst those for larger properties continued to rise. Largest increases were for properties of '5 pièces' (5 rooms plus kitchen and bathroom), which rose 3,8 %, while they rose 0,9 % and 1,7 % for 3 and 4 'pièces' properties.
By contrast, rents for studio apartments (24% of the market) went down 1.5%, and those for two roomed properties (31% of the market) went down by 0.4%.
This meant that the average rents nationally for different sized properties were as follows:

Average Rents 2011

Property Size

Average Rent

Average Rent (€/m²)

Studio/1

Pièce

€444
€16.50

2

Pièces

€566
€12.70

3

Pièces

€677
€10.50

4

Pièces

€789
€9.50

5+

Pièces

€1,086
€9.40

Once again, these averages would vary by region and, indeed, within regions so should only be used as a broad guide.

Outlook
According to Michel Mouillard, ''this year rents are likely to fall on average by around 5%, although rental levels for new property may well fall further.''

The reports states that between 2008 and 2012 rents in new build properties had increased 2.5 times less than the rest of the market. Indeed, ''they have been practically stagnant since 2007'', says Mouillard, suggesting that the tax breaks for new build rental acommodation Scellier have not been inflationary, he argues.