The Cost of Residential Care in France
Moving into a residential care home in France is a choice many expats eventually need to consider, so how much might it cost you?

France may well have a strong tradition of elders being cared for by family members, but there exists a substantial network of residential care homes across the country.
These homes are run by a mix of local councils, hospitals, private companies and charitable bodies.
The homes are officially called 'Etablissement d'hébergement pour personnes âgées dépendantes (EHPAD)' or 'maisons de retraite' in normal lexicon.
There are also more specialist care homes for those needing medical support, called Unités de soins de longue durée (USLD), which are attached to hospitals and akin to a nursing home.
Any elderly person 60+ who is legally resident in France is entitled to care in these establishments.
Prices
There are two basic charges that are imposed, one for accommodation and one for social care. Medical care is provided without charge.

If the EHPAD is overseen by the departmental council it is they who set the rate for accommodation; independent establishments set their own rates, but annual price increases in those privately run are controlled by the government.
Charges for social care, which depend primarily on the degree of dependency, are controlled by the departmental council.
According to the results of a recent government survey, the average monthly charge payable for accommodation and social care for permanent residence in an EHPAD was €1,953 per month.
This cost was calculated after deduction of the social benefit 'Allocation Personnalisée d'Autonomie (APA)' to which the vast majority of those in a residential home are entitled.
Before deduction of APA the average cost was €2,445.
However, prices varied considerably, with 10% of homes charging less than €1,674 per month, and the 10% most expensive more than €2,819 a month.
Some of the differences are explained by the different characteristics of the rooms, such as single/double, size, balcony etc.
Not surprisingly, the cheapest homes were those in the public sector, charging an average of €1,818, whilst commercially run homes charged an average of €2,678.
There were also variations by geographic location, with homes located around the Parisian Basin, the Alpes-Maritimes and Bouches-du-Rhône the most expensive.
The following graphic gives a broad indication of the price disparities for a person having a reasonable degree of personal autonomy.
Those seeking to find out the cost of a local establishment can find out at Annuire Herbergement.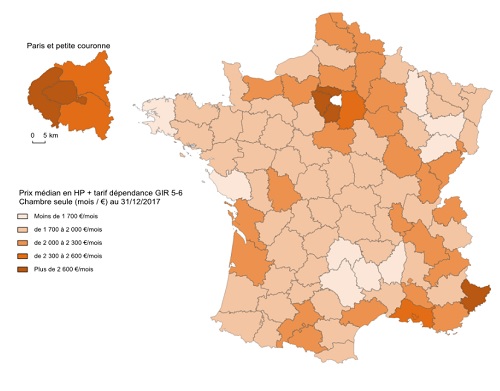 Financial Support
The study noted that these charges were above the annual income of an elderly person of 75+ years of age, whose average monthly income was €1,740.
Nevertheless, around 20% of those in residential homes had income sufficient to enable them to meet the accommodation and care costs.
Where there was a shortfall between costs in revenue, around one-third of residents dipped into their savings, whilst around 10% relied on financial support from family members.
There is also in place a range of social benefits. This assistance is particularly important for those with a greater degree of dependency, where charges for home care are higher.
The main benefits are:

Allocation Personnalisée d'Autonomie (APA)

- This is payable to those who need assistance with daily tasks such as washing and dressing and in need of regular monitoring. Around 80% of residents benefit from assistance towards their care costs through

APA.

Aide Sociale à l'Hébergement

(

ASH

) - The benefit is used to provide a degree of independence for those who need day care or specialist equipment.


Aide Personnalisée au Logement (APL

) - In the same manner it is also possible to claim assistance towards accommodation costs through

APL

. The benefit is payable based on your level of dependency and is means-tested.
There are various rules that govern eligibility to these benefits, notably income and level of dependency. Not all establishments are accredited to be able to accept those residents seeking ASH or APL.
Those who are resident in an EHPAD also benefit from a reduction in income tax, if they are liable. The reduction is 25% of the costs incurred, after deduction of any social assistance that may be received, up to a maximum of €10,000. Accordingly, the maximum reduction in tax is €2,500.
If you are a family member in France providing financial support to an elderly parent in a care home, you are also entitled to a reduction in income tax, although not on the same basis. You can claim for a reduction in tax for a pension versé à un ascendant, with relief provided on the basis of your marginal rate of taxation, which may be more or less than the 25% reduction available to a resident.
It is, however, important to note that assistance provided through APL and ASH can be recovered from the proceeds of the inheritance following death. The benefits may also be recovered in the event of a substantial change in the income or capital a resident. Statute only sets out the broad rules that apply; the departmental councils themselves have a degree of discretion on how they are applied. In relation to the proceeds of an assurance vie only premiums paid after 70 years of age can be claimed.
For the latest in-depth analysis, subscribe to our news service at France Insider.
France Insider is a subscription-based offer which has replaced our previous free Newsletter.