Wind Farms in France 2019
A new report provides a snapshot of the size and deployment of wind farm installations across France.
According to figures recently released by the French government, there are now nearly 2,000 wind farm installations across France.
Some 135 new wind farms were installed in 2019, increasing the total from 1,820 in 2018 to 1,940 at the end of last year, an increase of 7% over 2018. Power capacity increased by 9%, from 15.2GW to 16.6GW.
In both cases, however, growth slowed over the period 2017/18, down 16% in the number of new installations and 11% in power capacity.
Nevertheless, wind farms in the process of planning and construction will provide a further 12.6GW of capacity, although only around a quarter of these projects have been signed off and approved.
Nearly half of the wind power capacity is located in the regions of Hauts-de-France (4.5GW) and Grand Est (3.6GW). The other regions with more than 1GW are Occitania, Centre-Val de Loire, Brittany, Nouvelle Aquitaine and the Pays de la Loire.
Conversely, the regions of Île-de-France and Provence-Alpes-Côte d'Azur account for less 1% of the installed capacity in France.
The table below shows the number of installations and Milliwatt power capacity by department, which also shows large variations between department, even within the same region.
The top three departments with the largest capacity are all located in the Hauts-de-France region - Somme, which has a turbine capacity of 1,655MW, followed by Aisne, where the capacity is 1,082MW, and Pas-de-Calais (1,016MW).
By contrast, a significant number of departments in the South-West and South-East have no wind farms whatsoever.
Wind Farms 2019


Region/Dept



Number

Power
Capacity (MW)


AUVERGNE-RHONE-ALPES



Ain
5

18

Allier
8

47

Ardèche
23

112

Cantal
13

113

Drôme
27

139

Isère
2

3

Haute-Loire
8

69

Loire
2

0


Puy-de-Dôme

11

51

Rhône
4

0


Haut

e-Savoie
-

-


Savoie

1

0


BRITTANY




Côte d'Amour

51

325


Finistère

44

223

IIe-et-Vilaine
32

136


Morbihan



43

363

BOURGOGNE FRANCHE-COMTE

Belfort

1

0


Côte-d'Or

30

279

Doubs

19

183

Haute-

Saône

4

34

Jura

2

18


Nièvre

5

50


Saône-et-Loire

3

12


Yonne



23

250

CENTRE-VAL DE LOIRE

Cher

19

201

Eure-et-Loir

52

600

Indre

26

247

Indre-et-Loire

3

0


Loir-et-Cher



6

45

Loiret

17

175

GRAND EST

Ardennes

52

485

Aube

88

866

Haute-Marne

32

388

Marne

95

870

Meurthe-et-Moselle

18

130

Meuse

47

491

Moselle

30

299

Bas-Rhin

3

26

Haut-Rhin

1

0

Vosges

8

63

HAUTS DE FRANCE

Aisne
101

1,082

Nord
30

278

Oise
50

502

Pas-de-Calais
122

1,016

Somme
161

1,655


ILE-DE-FRANCE

Paris
-

-

Seine-Saint-Denis
-

-

Haute-de-Seine
-

-

Val-et-Marne
-

-

Val d'Oise
-

-

Yvelines
1

0

Essonne
6

53

Seine-et-Marne
4

36


NOUVELLE-AQUITAINE

Charente
15

143

Charente-Maritime

31

199

Corrèze
2

9

Creuse
6

59

Deux-Sèvres
38

365

Dordogne
-

-

Gironde
1

0

Landes
2

0

Lot-et-Garonne
-

-


Pyrénées-Atlantiques

-

-

Haute-Vienne
6

38

Vienne

26

224


OCCITANIE

Ariège
1

0

Aude
58

429

Aveyron
28

298

Gard
8

12

Gers
4

0

Haute-Garonne
6

45

Hautes-Pyrénées
-

-

Hérault
35

293


Lot

1

0

Lozère
12

135


Pyrénées-Orientales

11

162

Tarn
27

256

Tarn-et-Garonne
-

-


NORMANDY

Calvados

26

159

Manche

29

132

Orne

7

45

Eure

9

67

Seine-Maritime

48

434


PAYS DE LA LOIRE

Loire-Atlantique

50

390

Maine-et-Loire

18

143

Mayenne

23

154

Sarthe

9

62


Vendée

34

263

PROVENCE-ALPES-COTE D'AZUR

Alpes-de-Haute-Provence

-

-

Alpes-Maritimes
-

-

Bouches-du-Rhône

8

38

Hautes-Alpes

-

-


Var

2

0

Vaucluse

7

10

Source : SDES d'après Enedis, RTE, EDF-SEI, CRE et les principales ELD
The graphic below shows the distribution of capacity overlaid on a departmental administrative map.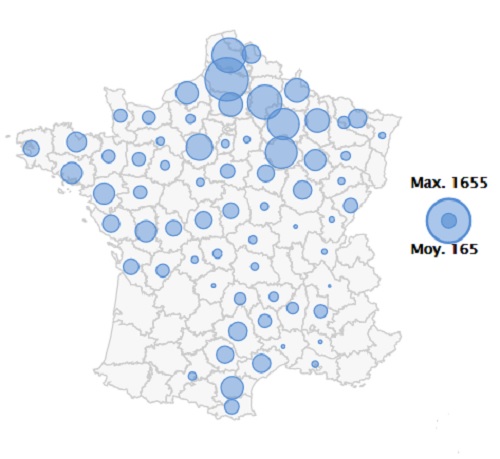 Changes in the Wind?

There is often visorfourous local opposition to new wind farm developments, with a majority of them challenged in the courts, often with success.
These local protests have begun to be heard at the highest levels and there are increasing signs that the consensus surrounding the development of off-shore wind farms is weakeing, with even President Macron in recent months having expressed some reservations about it.
During a visit to Pau earlier this year he stated that "the capacity to develop massively the wind energy is reduced. "The consensus on wind energy is clearly weakening in our country," he explained, adding that "more and more people no longer want to see wind turbines near their homes, and consider that their landscape is degraded."
The Élysée Palace later followed up those words from the President stating that: "The message of the anti-wind turbine has been heard by the head of state, he has received many messages on this subject and we must be vigilant."

Property Purchase Process
As we have indicated in the past, in general, the risks associated with buying a property and later landing up with a wind farm nearby remain low.

However, for those for whom it may be a concern it is clearly important to do some homework as part of the purchase process.
They have been helped in recent years by the formal disclosure requirements that are necessary, although this process does sometimes breakdown, as a number of court cases have demonstrated.
In the one case, a court of appeal decided that a failure by the seller to disclose information about a local wind farm project enabled the buyers to withdraw from the sale.
Although in its early stages the project consisted of eight wind turbines located approximately 1km from the property. The buyers were a couple who had purchased a property in a rural location which they wished to use as a chambre d'hôte business.
The seller was aware of the buyers intentions and the necessity for the property to be located in a calm and protected environment. They also knew of the wind farm project as a result of extensive local publicity and a campaign to oppose the plan. Indeed, three witnesses testified that the seller had actually participated in the campaign.
The court ruled that the sale should be annulled and the seller reimbursed the sum of €223,000, which included around €10,000 in notaire fees and stamp duty costs.
In a second case the court of appeal considered the case of a couple who had signed a sale contract for the purchase of a restored property in Tigné, in the department of Maine-et-Loire.
A little later the buyers learned of a wind farm project approximately 1km from the property. The project was one about which the seller would have been aware, as they were a local councillor.
In the light of this new information the buyers sought a reduction of 10% in the purchase price from the seller, who refused their request. He argued that the nuisance from the wind farm would not be significant, and, in any event, there was no certainty that the project would proceed.
The court of appeal judged that there was a potential for noise nuisance and that the implantation of such large structures within the site line of their property did create an important change to the environment that might not be acceptable to the buyers.
Accordingly, the buyers were granted the 10% reduction in price that they sought, together with the opportunity to withdraw from the sale if they so wished.
We have also previously reported on a notaire who failed to disclose a wind-farm development to the buyer.
As a result, if it is a concern, you need to make sure you formally request and record an exchange of information with both the seller and the notaire on any development plans in the locality. You should specifically and formally request of the notaire that wind farm plans form part of their search enquiries. One thing to be careful of here is that the search made by the notaire may only extend to the commune in which the property is located, so this point needs clarifying with them. If the property lies in proximity to a neighbouring administrative area, wider enquiries are needed.

The website of the prefecture may well be a useful source of information.
Those who have the time and inclination to do so might also want to consult the regional plans, called the Schéma Régional Eolien, which are prepared by the regional councils and prefets. However, these plans are broadly based and few have been approved. A number have also faced successful legal challenges, such as in Brittany and Burgundy.
It also may be that no-one can be blamed for withholding information due to the formative stage of a project, when discussions with landowners may be taking place in private. In such circumstances the best sources may well be local residents or an informal approach to the local mayor.

*The figures provided in the report for 2019 are provisional only
For the latest in-depth analysis, subscribe to our news service at France Insider.
France Insider is a subscription-based offer which has replaced our previous free Newsletter.