Cheapest House Prices in Brittany
Wednesday 04 November 2015
The cheapest twenty communes in Brittany in which to buy a house for up to around €100,000.

The administrative region of Brittany comprises four departments - the Côte d'Amour, Finistère, Morbihan, and IIle-et-Vilaine.
Locals will argue that the adjacent department of Loire-Atlantique is also part of Brittany. Historically and culturally they have good reason to say so, but in 1956 an administrative reorganisation annexed the department into the new Pays de Loire region.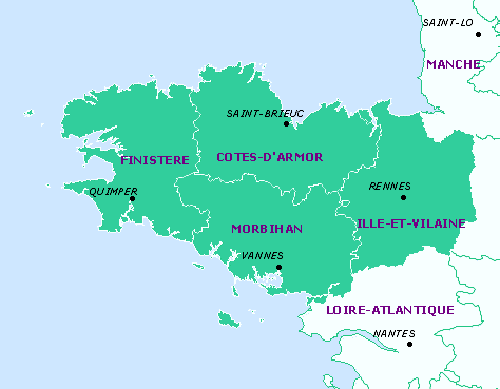 According to the Notaires de France, the average house price in the region is around €150,000.
On a departmental level the cheapest department is the Côte d'Amour at €121,000. It is followed by Finistère (€136,000), Morbihan (€160,000) and IIle-et-Vilaine (€176,000).
However, values vary substantially and many properties available for purchase are well-under these figures.
The relatively low prices have been helped by the fact that since 2011 prices have fallen and are now at the level they were in 2006.
The table below gives a list of the 20
communes
in the region having the lowest average house prices, based on actual sales that have occurred this year.
The number in brackets after the name of each
commune
is the department in which it is located - Côtes-d'Armor (22), Finistère (29), Ille-et-Villaine (35), and Morbihan (56).
As can be seen, the
commune
with the lowest average price is Callac, in the Côte d'Amour, with an average price of under €50,000.
Indeed, the first four places are taken by
communes
from this department, which has 10
communes
represented in the list.
However, all departments are represented in the list, demonstrating that good value can be found right across the region.
We could also have included many other
communes
, with average house prices that are not significantly higher than those on the list.
Equally, at the other end of the spectrum, there are many
communes
with average values that are substantially in excess of those below.
According to the notaires, those with the highest average house prices are La Trinité-sur-Mer (56) at €433,000, followed by Ile aux Moines (56) €415,000 and Saint-Grégoire (35) at €335,000.
House Prices in Brittany


No




Commune



Average Price

1

Callac (22)

€49,900

2
Rostrenen (22)

€55,000

3

Glomel (22)

€59,000

4

Plémet (22)

€61,300

5

Gourin (56)

€70,000

6

Ploërdut (56)

€75,000

7

Huelgoat (29)

€80,000

8

Le Faouët (56)

€82,500

9

Bégard (22)

€90,000

10

La Guerche (35)

€92,500

11

Guincamp (22)

€96,300

12

Guipry (35)

€99,900

13

Merdrignac (22)

€101,800

14

Rieux (56)

€105,000

15

Sérent (56)

€106,500

16

Redon (35)

€110,000

17

Ploumagour (22)

€112,000

18

Montauban (35)

€114,500

19

Plœuc-sur-Lié (22)

€115,000

20

Loudéac (22)

€117,000

Source: Notaires de l'Ouest

For the latest in-depth analysis, and access to a Helpline, subscribe to our news service at France Insider.
France Insider is a subscription-based offer which has replaced our previous free Newsletter.