The Price of a Building Plot in France 2017
The price of a building plot in France rose by an average of 3.6% last year to reach €85m², but with significant variations across the country.

At a regional level average prices varied from €45m² in Bourgogne-Franche-Comté to €216m² in the Ile-de-France. However, such is the size of the new regions that these figures are of limited practical value.

To provide a more accurate picture, the table below contains the average m2 price for each region, as well as the lowest and highest quartile averages and the median.
Average

Prices Per

m²

for Building Land


Region

Mean
Average


Lowest 25%



Median

Highest 25%

Auvergne-Rhône-Alpes
€90
€53
€103

€171

Bourgogne-Franche-Comté
€45
€25
€52
€90

Brittany
€86
€60

€103

€148

Centre-Val de Loire

€58
€39
€71

€113

Grand Est
€89

€56
€115
€177

Hauts-de-France
€75

€51
€95
€131

Île-de-France
€216
€158
€252

€364

Normandy
€54
€34
€66

€114

Nouvelle-Aquitaine
€65
€30
€76

€143

Occitanie
€85
€51
€113

€215

Pays de la Loire
€92
€62
€98

€163

Provence-Alpes-Côte d'Azur
€149
€104
€178

€265

France Metropolitan
€85
€50
€100

€168

Source: SOeS, EPTB 2018
Most the prices in the study are based on sales taking place in the urban areas of France. The average price of building land in rural areas is generally lower, and last year averaged 53m² on a national basis.

As if to reflect the urban bias, the average plot size in the study was 920m². Plot sizes in rural areas are generally larger.
With the increase in the price of building plots, there is a corresponding reduction in the size of the plots, as the following graphic shows: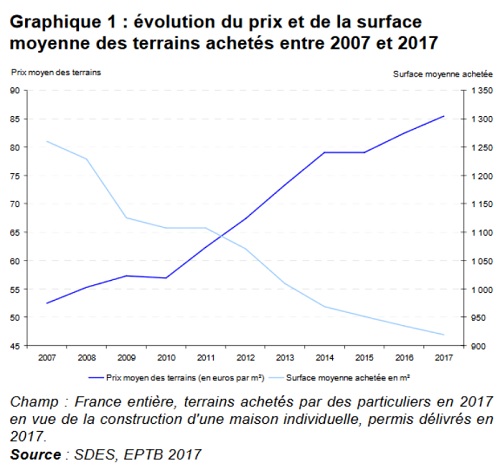 Accompanying the land price analysis, the review also provides figures on building construction costs, which show that the average build cost last year was €1,394m². The average house size was 119m².
For the latest in-depth analysis, subscribe to our news service at France Insider.
France Insider is a subscription-based offer which has replaced our previous free Newsletter.