Where to Buy Cheap Property in Brittany
The cheapest villages in Brittany in which to buy a house, for an average price as low as €53,000.

The administrative region of Brittany comprises four departments - the Côtes d'Armor, Finistère, Morbihan, and IIle-et-Vilaine.
According to the Notaires de l'Ouest, the average house price in the region is around €160,000.

As we reported recently in our Newsletter, house prices in the region are at much the same level as they were 10 years ago, although with substantial variations in the market by property type and area.

Although the adjacent department of Loire-Atlantique is not part of the region of Brittany the department is also included in the Notaires de l'Ouest property market reports, due to the historical ties with the region; it was only an administrative reorganisation in 1956 that annexed the department into the new Pays de Loire region.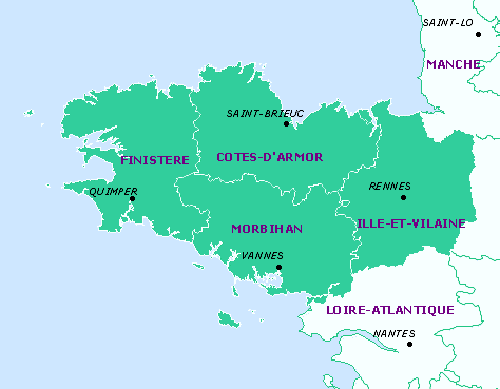 On a departmental level the cheapest department is the Côtes d'Armor at €120,000. It is followed by Finistère (€140,000), Morbihan (€165,000) IIle-et-Vilaine (€178,000) and Loire-Atlantique (€205,000).
However, values vary substantially and many properties available for purchase are both well-above and well-under these figures.

Thus, at the top end there are some communes in the department of Ille-de-Vilaine with average values in excess of €300K, such as Cesson-Sévigné (€381,500), Saint-Briac-Sur-Mer (€357,500), Saint-Grégoire (€333,200).
In the Loire-Atlantique, prices in La Baule-Escoublac average €379,500, and in the city of Nantes they average €325,400.

Even in cheap Cotes d'Armor, average prices of over €200K are found in the communes of Saint-Cast-Le-Guildo (€225,000) and Pléneuf Val André (€215,000),

But there are many areas in the region where prices are much lower.

The table below gives a list of the communes in each department having the lowest average house prices, based on actual sales in 2017.
As can be seen, lowest average prices are to be found in Rostrenen in the Côtes d'Armor, and Gourin in the department of Morbihan, each with an average price of €53,000.
There are no doubt good reasons why prices in these areas are so low, so buyers need to be prudent in their approach.

Cheap House Prices in Brittany


Region/Dept



Average Price


COTES D'ARMOR



Rostrenen

€53,000
Le Mené
€55,000
Saint-Nicolas-du-Pélem
€55,200
Les Moulins

€63,000

Maël-Carhaix
€67,500

FINISTERE




Spézet

€80,000

Carhaix-Plouguer



€83,000
Elliant
€83,000

Châteauneuf-du-Faou



€87,300
Morlaix

€92,000
ILLE-ET-VILAINE

Bazouges-La-Pérouse

€88,300
Martigné-Ferchaud

€90,000
Pipriac

€101,500
La-Guerche-de-Bretagne
€112,800
Retiers

€113,500

MORBIHAN

Gourin

€53,000
Langonnet

€65,000
Malansac

€70,000
Le Faouët

€77,000

Malestroit



€86,500
LOIRE-ATLANTIQUE

Avessac

€84,500
Guenrouet

€90,500
Fégréac

€96,000
Saint-Nicolas-de-Redon

€100,000
Guémené-Penfao

€110,000
Source: Notaires de l'Ouest