French City House Prices 2008-18
A new study shows the movement in house prices in the metropolitan areas of France.
Since 2014, as part of a reorganisation of local government in France, 29 new metropolitan areas have been created, which bring together a previously tiered system of local government.
These metropoles now account for 39% of the population and 43% of employment, so they are large, economically significant areas.
In a study, the notaires show the scale of the differences in the fortunes of each of the metropolitan areas for the period 2008-18,
The study examined not only compared the fortunes of these metropoles but the impact of house price movements in each metropole on the surrounding area.
As can be seen from the graphic below, the movement in house prices has varied considerably, ranging from +42% in Bordeaux, to -8% in Dijon.
Indeed, of the 29 metropoles, house prices in 7 of them ( Brest, Rouen, Orleans, Nancy, Metz, Grenoble and Dijon) have decreased over the reference period.
In a further 6 metropolitan areas (Paris, Montpellier, Strasbourg, Clermont-Ferrand, Tours and Rennes) house prices have risen by less than 10%.
Although, in many of the cities house prices have risen significantly in recent years, prices fell between 2008-2010 and again in 2015. The only exception has been Bordeaux, where prices have risen continuously since 2010.

The graphic also shows the percentage movement in prices the city itself compared to the surrounding areas. As can be seen, where prices in the cities have risen, surrounding prices have risen by a lower amount (or have fallen), and where city prices have fallen, prices in outlying areas have fallen by a greater amount.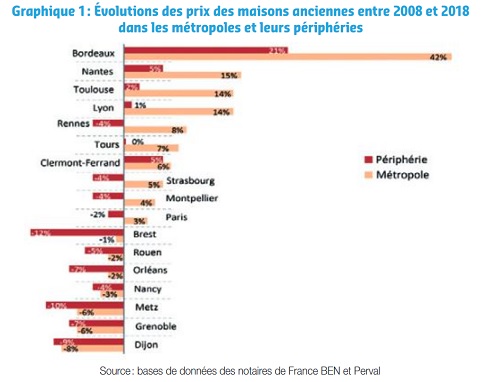 The table below shows the average per m2 price for houses in each of the cities, in the order as given in the above graphic. Clarly, prices will vary by location. These variations are particulary large in Paris and Lyon.

Metropole House Prices



Bordeaux

€4,380m2

Nantes

€3,830m2

Toulouse

€3,170m2

Lyon

€5,490m2

Rennes

€3,820m2

Tours

€2,700m2

Clermont-Ferrand

€2,010m2

Strasbourg

€2,700m2

Montpellier

€3,010m2

Paris

€12,850m2

Brest

€1,710m2

Rouen

€2,310m2

Orleans
€2,120m2

Nancy
€2,170m2

Metz
€2,010m2

Grenoble
€2,720m2

Dijon
€2,450m2

For the latest in-depth analysis, subscribe to our news service at France Insider.
France Insider is a subscription-based offer which has replaced our previous free Newsletter.