Coastal Property Prices in France 2018
There have been some significant rises in coastal property prices over the past year, although it has not been an upward wave everywhere.
According to the latest property market report from the
Notaires de France
, average prices for a property along the French coast range from around €1,300m2 in the industrial north to over €5,000m2 in the most fashionable coastal areas in the south.
Although prices on the Cote d'Azur are the most expensive in France outside of Paris, the Atlantic coast has its share of expensive locations.
Top of the pile is the oyster-farming Basin of Arcachon, where in the resort of Lège-Cap-Ferret average prices for houses approach €700K and apartments around €7,000m2. Across the bay in the town of Arcachon itself the average price for an apartment is €5,170m2 and houses average over €500K.

Similarly on the Atlantic coast, prices for houses in chic Biarritz average €583K, whilst in the Normandy resort of Deauville they average €334K, and further north in glamorous Le Touquet, €500K.
However, beyond the playgrounds for the rich, prices in most seaside resorts in France are far more affordable, with most resorts outside of Provence-Alpes-Côte d'Azur in the price range €170K to €250K. Expect to pay upwards of €400K in most resorts on the Côte d'Azur.
In terms of price changes, over the year to the end of March there has been a generally strong upward movement, with houses in Saint-Pierre d'Oléron up by 22%, by 17% in Lège-Cap-Ferret, 16% in Royan, 15 % in Saint-Malo, 13 % in Hyères, 12 % in Agde and 10% in Biarritz.

Apartment prices in Arcachon rose by 10%, those in Saint-Malo by 9% and by 6% in Sables-d'Olonne and La Ciotat.

Nevertheless, prices of apartments fell in some other areas, notably, at Cherbourg-Octeville (-6%), Saint-Raphaël (-3%), Dunkerque (-3%) and Gruissan (-2%).

House prices also fell in La Baule (-8%), Saint-Raphaël (-5%), Cannet-en-Roussillon (-3.4%), and Biscarrosse (-2%).
The graphic below shows shows the average price of apartments (dark blue) and houses (light blue) in a representative selection of resorts along the coastline of France.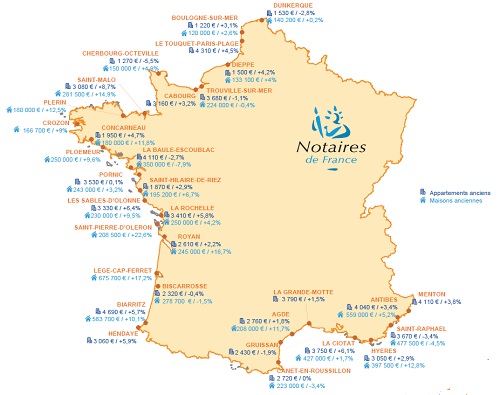 View a selection of properties for sale on Atlantic Coast
View a selection of properties for sale on Mediterranean Coast
For the latest in-depth analysis, subscribe to our news service at France Insider.
France Insider is a subscription-based offer which has replaced our previous free Newsletter.