House Prices in the Dordogne
House prices in Dordogne vary by an average of over 100% between the most and least expensive areas.
A combination of reasonable house prices, striking beauty and tranquillity make the Dordogne a popular choice for prospective international property buyers.
The hub of the department is the idyllic Dordogne River Valley, the main tourism destination, the location of the Bergerac airport, and where many British nationals have settled or own holiday homes.
A map of the department and its position in relation to neighbouring departments is shown below.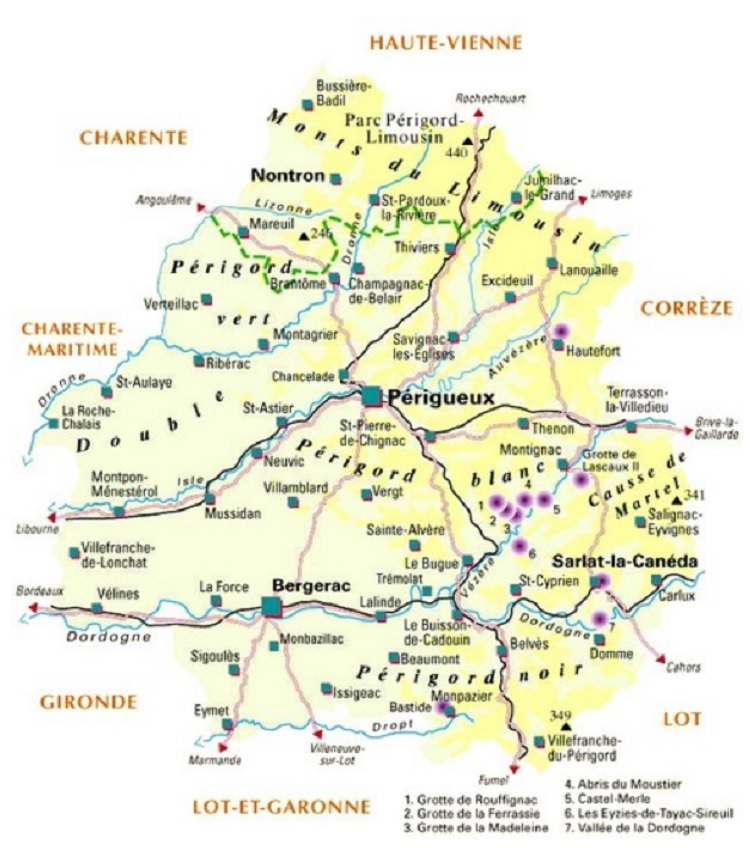 The Dordogne is a huge department of over 9,000 square kilometres, the third largest department in France, and one with a complex and diverse climate and topography.
In the south, higher temperatures and lower rainfalls contrast with the more humid and cooler influence of the Massif Central in the north, whilst in the west the lowland agricultural plains of the Aquitaine Basin stretch out to meet the breath-taking landscapes and medieval architecture of the Périgord Noir to the east.
The physical and temperature differences in the department are matched by an equally contrasting housing market, with average prices that vary by over 100% between the least and most expensive areas.
In their recent review of house prices in the department, the notaires divide the department into twenty areas, as shown below, using the boundaries of main inter-municipal councils that are gradually taking the place of the local commune as the local administrative centre within each department.
Source: Notaires de France
Overall, the notaires state that for the year ending June 2021, the average house price in the department was €1,220m2, averaging €1,790m2 at the top end in and around Sarlat in the south, and €890m2 at the bottom end in Périgord Nontronnais in the north.
The performance of the market over the past year has been strong, both in terms of sales and prices, and provisional figures show the latter having increased on average by around 5%.
Alice Loftie of estate agents Loftie Immobilier comments that: "Like most other areas of France, it is a very active market at the present time, from both French and international buyers. British buyers are now looking and buying in significant numbers. Although there is no 'price explosion', prices for the nicest properties are moving up."
Lily Bayliss of Abordimmo Immo confirms much the same. "Prices may not be shooting up but they are firm. British buyers are also back on the move, some with very big budgets, with a lot of people looking to telework, perceiving a calamitous situation in the UK."
The numbers in the first column of the table below correspond with those on the map above. The sale figures shown are the median average price for sales between 30th June 2020 and 30th June 2021. Accordingly, 25% of sales are above this price level and 25% below it.
House Prices in Dordogne

No

Area

Average Price

1
Périgord Nontronnais
€830m2

2
Périgord-Limousin
€1,000m2
3
Dronne et Belle
€1,000m2
4
Isle-Loue-Auvézère en Périgord
€1,050m2
5
Pays Ribéracois
€1,050m2
6
Le Grand Périgueux
€1,450m2
7
Terrassonnais en Périgord Noir Thenon Hautefort
€1,150m2
8
Pays de Saint-Aulaye
€1,100m2
9
Isle Double Landais
€1,190m2
10
Isle et Crempse-en-Périgord
€1,180m2

11
Isle Vern Salembre en Périgord
€1,160m2

12

la Vallée de l'Homme
€1,380m2

13
Pays de Fénelon
€1,580m2

14
Montaigne Montravel et Gurson
€1,150m2

15
Bergeracoise
€1,330m2

16
Bastides Dordogne-Périgord
€1,300m2
17
Vallée de la Dordogne et Forêt Bessède
€1,450m2

18
Portes Sud Périgord
€1,360m2
19

Domme - Villefranche du Périgord
€1,360m2
20
Sarlat-Périgord Noir
€1,790m2