A combination of relatively low house prices, striking beauty and tranquility make the Dordogne a popular choice for prospective international property buyers.

The hub of the department is the idyllic Dordogne River Valley, the main tourism destination, the location of the Bergerac airport, and where many British nationals have settled or own holiday homes.
It is, however, a department where generalisations need to be used with caution, for at over 9,000 square kilometres, the third largest department in France, it has a complex and diverse climate and topography.
In the south, higher temperatures and lower rainfalls contrast with the more humid and cooler influence of the Massif Central in the north, whilst in the west the lowland agricultural plains of the Aquitaine Basin stretch out to meet the breath-taking landscapes and medieval architecture of the Périgord Noir to the east.

The physical and temperature differences in the department are matched by an equally contrasting housing market, with average prices that vary by over 100% between the least and most expensive areas. The performance of the market is similarly varied, with some showing significant falls over the past 5 years, whilst in other areas it has been more positive.
The map below divides the department into communauté de communes, inter-municipal councils that are gradually taking the place of the local commune as the local administrative centre within each department. These councils are in a state of transition, and some have merged or are in the process of merger, so the map is not entirely up-to-date.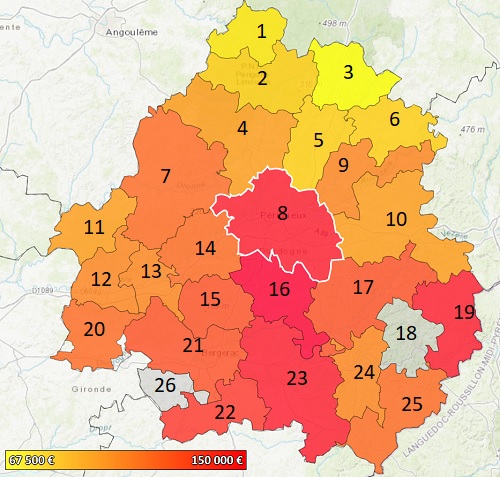 Source: Notaires de France

Using this map, as can be seen from the following table, lowest prices for property can be found in the Pays de Jumilhac le Grand in the north, where prices average €67,500. Several other areas in the north offer average house prices under €100K.

Perhaps because of the cheap prices Peter Elias of estate agents Allez-Francais says sales are booming: "Not only are prices very attractive, but the area is also very beautiful. Not for nothing is it called Perigord Vert."

Further south and prices start to move up. Highest house prices are around the capital of Perigueux, in the Pays Vernois et du Terroir de la Truffe, where prices average €150,000.
The table also shows the movement in house prices over the past 5 years to June 2017. Once again, it is a contrasting picture, with prices in Vallée de l'homme and the Pays Thibérien having fallen by nearly 20% over this period, whilst they have risen by a similar amount in the Pays de Saint Aulaye.

Overall, prices in the department have fallen by nearly 10% in the past 5 years.
As always, these figures should be used only as a general guide, as actual prices will depend on location, size and condition.
House Prices Dordogne


No




Commune



Average Change 2011/17

Average Price June 2017

1
Haut Périgord
-9.8%

€77,000

2
Périgord Vert Nontronnais
+12.5%

€85,000
3
Pays de Jumilhac le Grand
-10%
€67,500
4
Dronne et Belle

-4.8%

€100,000
5
Pays Thibérien
-19.7%
€85,500
6
Pays de Lanouaille
-4.7%
€81,000
7
Pays Ribéracois
-10.9%
€119,400
8
Grand Perigueux

-3.7%
€144,500
9
Causses et Rivières en Périgord
-15.8%

€106,500
10
Terrassonnais en Périgord Noir Thenon Hautefort
-10.4%
€103,000

11
Pays de Saint Aulaye
+19%
€100,000

12

Isle Double Landais
-7.5%

€111,000

13
Mussidanais en Périgord
-4.3%

€107,200

14
Isle Vern Salembre en Perigord
n/a

€121,000

15
Pays de Villamblard
+15%

€127,000

16
Pays Vernois et du Terroir de la Truffe
+14.5%

€150,000
17
Vallée de l'homme
-19.5%

€123,500

18
Sarlat-Périgord Noir
n/a
n/a
19

Pays de Fénelon
-2.2%

€140,400
20
Montaigne Montravel et Gurson
-4%

€120,000

21
Bergeracoise
+2.2%

€127,800

22

Portes Sud Périgord

-11.3%
€130,000

23
Bastides Dordogne-Périgord
-1.4%
€138,000
24
Vallée de la Dordogne et Forêt Bessède
n/a
€110,000
25
Domme-Villefranche du Périgord
-15.2%
€114,600
26
Coteaux de Sigoules
n/a
n/a
Source: Notaires de France

Unfortunately, there are no figures available for Sarlat, an area particularly popular with British nationals. However, Tracy Ravard of Belves Immobiler near Sarlat says prices are in line with surrounding areas, and that the general trend is downwards. "We have seen a lot of uncertainty this year, due not only because of Brexit, but also the French presidential elections. In the past few months it has started to pick up, but the budget for many international buyers has come down, due to the fall in the exchange rate."

View a selection of properties for sale in the Dordogne