French Farmhouse Prices in 2013
The French rural land agency SAFER have published their annual review of the property market, providing an insight into country house prices and international buying activity.
SAFER (Société d'aménagement foncier et d'établissement rural) are a very French institution, with a role and powers unlike most other rural land agencies in the world.

Their ability to offer an analysis of the property market stems from the fact that they are active participants in it, with a right of pre-emption over rural property sales.
Their perspective is somewhat hampered by the limited number of house sales in which they are involved, normally around 30,000 transactions a year, against around 700,000 total residential sales in France.
Nevertheless, as they view all activity that takes place, whether or not they are actually buyers, the report is a useful addition to the range of information available, and the focus on rural properties is of particular interest to international home buyers.
In their review of 2013, SAFER state that sales increase marginally by 2.3% over 2012, to 29,800, although, as usual, with a very contrasting picture across the country. This is still far from the halcyon days of 2007, when SAFER sold over 40,000 country properties.

As far as house prices are concerned, they fell by 3%, but with the same pattern of differentiation region by region. Over a two year period 2012-13 prices have fallen by an average of 4.3%.
The big local differences can be seen on the following graphic, with prices falling by more than 15% in some areas, but actually increasing by as much again in other localities. Given the limited number of transactions, the wide disparities are likely to be of greater significance than the actual percentages for any given area.
Price Movements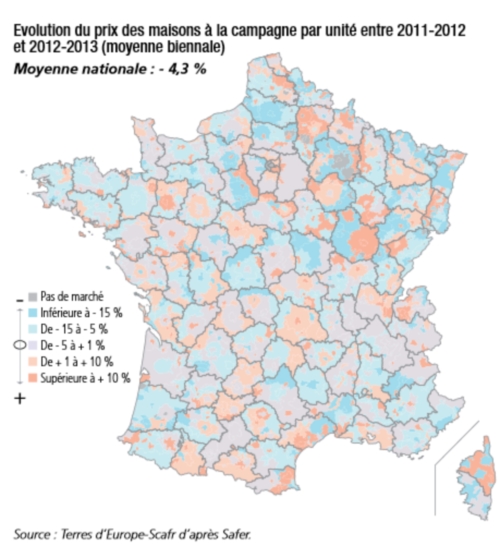 Average Prices
As far as average prices are concerned, the following graphic shows that highest prices are around the Parisian Basin, Alsace, Haute-Savoie, Lyon, the Mediterranean coast, the Atlantic coast, Toulouse and Bordeaux.
By contrast, cheaper areas are the regions of Brittany, Centre, Auvergne, Limousin and Champagne-Ardenne, as well as parts of some other regions.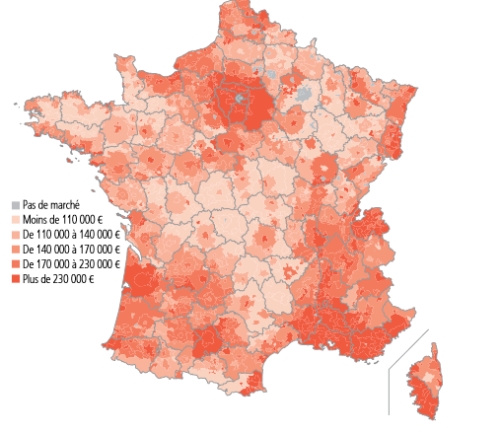 International Buyers
The percentage number of international buyers in 2013 was 6.5% of total sales, much the same as in recent years, although substantially below the record figure of over 14% in 2004.
The British continue to represent by far the largest contingent of buyers, with 44% of all international sales to buyers originating from the United Kingdom. Total sales to British buyers were 878, well below the record of 4500 in 2004.

In second place were the Belgians (18% of buyers). They were followed by the Dutch and Swiss (9% each).

International buyers are also continuing to buy in those places where they have done so in the past, with most sales in the Central West of the country, notably in Aquitaine, Poitou-Charentes, Limousin, and also parts of Midi-Pyrenees, Burgundy and Languedoc-Roussillon.

By contrast, the departments around the Mediterranean continue to attract buyers of a diverse range of countries.