French Farmhouse Prices in 2015
The French rural land agency SAFER have published their review of the property market for 2015, reporting that prices fell by an average of 2.4%.
Each year SAFER (Société d'Aménagement Foncier et d'Etablissement Rural) offer an assessment of the market for rural properties and agricultural land.
They are able to do so by virtue of their right of pre-emption on most rural properties, granting them a right to formal notification of prospective sales by notaires. They are also themselves active in the market.

Their assessment this year should have been greatly aided by changes in the law introduced in 2014, which requires notaires to notify to them a far higher number of properties subject to sale.

As a result of the change SAFER state that the number of such notifications has increased by 40% over 2014.

However, they were clearly overwhelmed by the volume of information arriving on their desk, for their report actually contains far less information on prices changes and sales of residential property than is the norm.

All we get is the rather feeble and uninformative statement that: "le nombre transactions de maisons à la campagne enregistrées par les Safer explose en raison de la Loi d'avenir..........empêche toute comparaison avec les années antérieures. Le prix de l'immobilier ancien baisse lui de 2,4 %."

There is no geographic analysis of the movement in prices and sales, and no information is provided on just how they arrived at the figure of a 2.4% fall in prices, particularly if no comparison with previous years was possible!

Average Prices by Department
Nevertheless, of some interest is the following graphic they provide on average prices by department, albeit with a wide price spectrum within each range and focussed at the lower end of the market.

It shows that highest prices are around the Parisian Basin, Alsace, Haute-Savoie, Lyon, the Mediterranean coast, the Atlantic coast, Toulouse and Bordeaux.
By contrast, cheaper areas are the regions of Brittany, Centre, Auvergne, Limousin and Champagne-Ardenne, as well as parts of some other regions.
International Buyers
SAFER state that the percentage number of non-resident international buyers in 2015 was 7.3% of total rural house sales, much the same as in 2014, although substantially below the record figure of over 14% in 2004.
The graphic below shows the percentage of rural house sales by department to international buyers in 2015.
In contrast to previous years no information is provided on the nationality of such buyers, although it can safely be assumed that British buyers remain in the ascendency.
As can be seen, international buyers are continuing to buy in those places where they have done so in the past, with most sales in the Central West of the country, notably in Aquitaine, Poitou-Charentes, Limousin, and also parts of Midi-Pyrenees, Burgundy and Languedoc-Roussillon.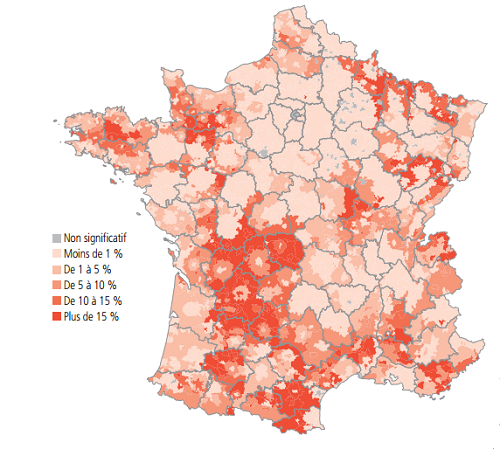 All images courtesy of Terres d'Europe-Scafr d'après Safer.

Related Reading:
For the latest in-depth analysis, and access to a Helpline, subscribe to our news service at France Insider.
France Insider is a subscription-based offer which has replaced our previous free Newsletter.